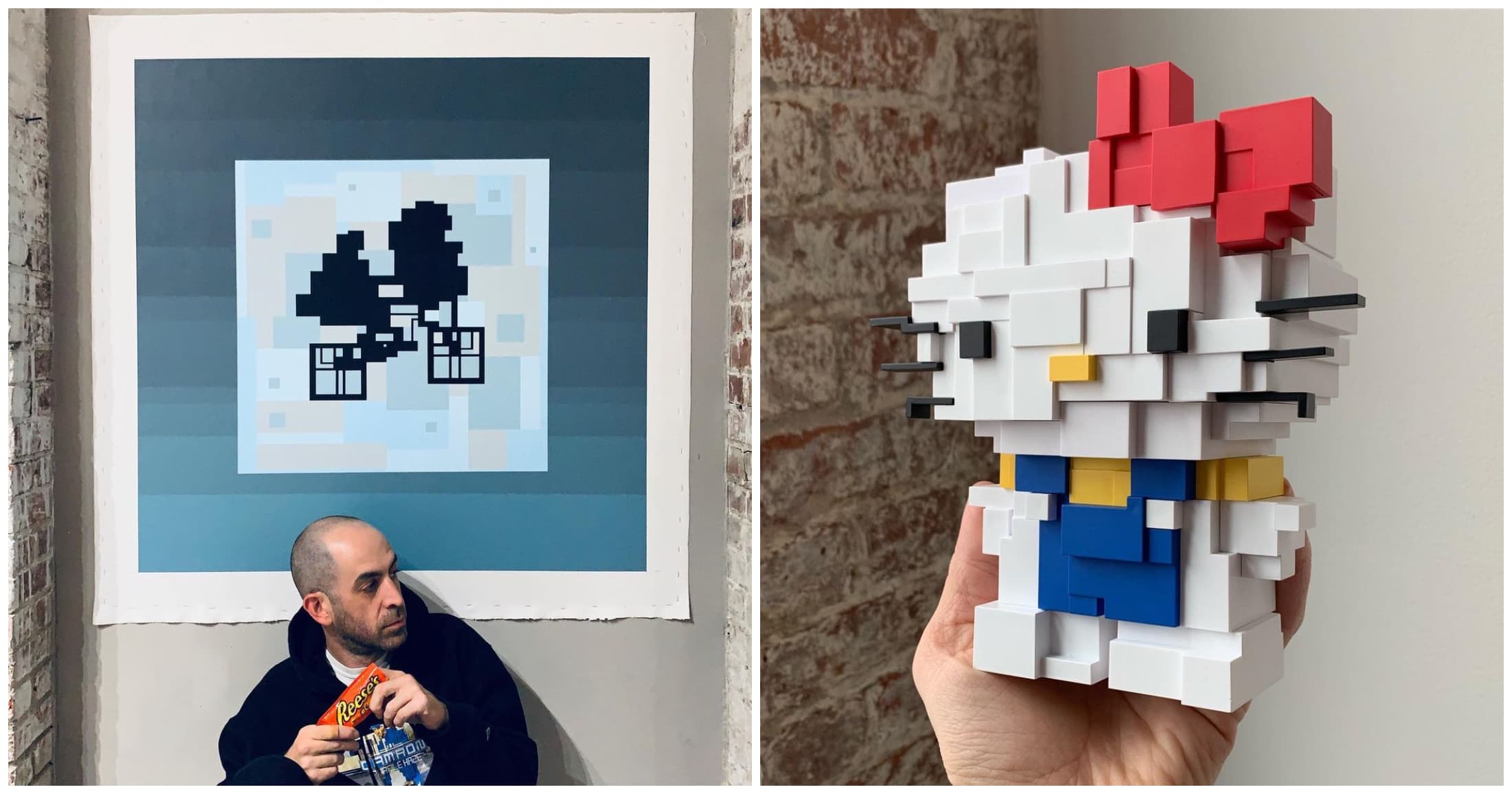 English
Interview with Adam Lister, Brooklyn-base Artist on Pixelating Everything
Heaven Raven: Thank you for doing this interview with us. Please introduce yourself a bit to our readers.

.
I am a painter currently living in Beacon, New York. I have been making art since I was a child. I attended art school to study painting at the School of Visual Arts in Manhattan and received a BFA in 2003. Since then, my work has been exhibited internationally at galleries and art fairs. I have also collaborated with some legendary brands such as A Bathing Ape, Reebok, and Hello Kitty, to name a few.
HR: How did you start this Instagram account?


.
I started it as an online portfolio of my artwork initially. Overtime the popularity of Instagram grew so much that it has definitely become my primary source to reach and interact with collectors and art lovers.
HR: I've read the pixelated visuals you make are mainly influenced by Atari and the first Nintendo, is that true?


.
Absolutely true. I was born in 1978, I still remember as a young kid playing my father's Atari games like Space Invaders and Pong. Then I also remember getting the original Nintendo for the first time and obsessively playing Mario Bros and Duck Hunt for hours. Having early childhood memories filled with a lot of primitive video game imagery has certainly influenced the appearance of my artwork.
HR:How do you develop your creativity in life?


.
I try to listen to a wide variety of music while I'm working, new artists and older ones too. Music helps to disconnect me from worries and stresses of everyday life and it allows me to focus on my work. I also spend a lot of time with my 6 year old daughter, she has her own little studio space set up in my studio and to watch her make things and be curious about everything is amazing inspiration.
HR: You use pixelated style to reinterpret tons of different themes, from classic art to pop culture. How did you choose the theme? Which one is your favorite so far and why?


.
I choose my themes based on many factors. Mostly it is connected to my personal memories and experiences. For example, I make a lot of paintings based on characters that I loved growing up as a child. I also make paintings that reference classic artworks from history, which I feel in love with as a young adult while studying art history. My favorites currently are Star Wars inspired pieces and paintings of iconic NBA players.
HR: You currently have a small exhibition in Taipei! Could you tell us about it?


.
The exhibit in Taipei is called "Spatial Reduction" and is with CBU Gallery. Yvonne Liao, the gallery owner, and I had been discussing this exhibit for quite a while. It is a sampling of many different themes that I have worked with over the past 2 years. The show has several large canvases that depict classic works of art (Mona Lisa, Van Gogh's Sunflowers, Ingres' Princess de Broglie, etc). And the show also includes a selection of smaller watercolor paintings, its a blend of subjects within the show, portraits of Kobe Bryant, scenes from The Godfather, Sesame Street characters, and more.
HR: What do you try to deliver to the audience through your work?


.
My work is about reducing the complexity of an image down to a collection of right angled shapes and flat colors. There is no specific message or meaning that I look to impose on my paintings. I make them for myself and if people can connect with the imagery or the subject matter or the technique, then that's what I deliver.
HR: People have been talking about AI art in the recent year. What's your insight on this?


.
I will be honest, it is totally fascinating and horrifying at the same time. I am a huge supporter of technology and using the technological advances to introduce new tools to creatives. But there is something quite dark about AI art to me. I'm not sure exactly what it is, but I don't get a good feeling from it. Maybe I watched the Terminator movies too many times.
HR: Maximalism or minimalism? Why?


.
Initially I say "minimalism", but over the past few years, I realized somethings about my work and my approach to making art. I feel like sometimes, the less there is (in a painting), the more you see (in a painting).
HR:  Do you feel social media change positively or negatively the way how people perceive art? Why?


.
I understand the argument for both sides on this topic. On one hand it has made artwork so much more accessible to collectors, especially new artwork. Personally so many of my contacts and collectors have come from or are connected to my social media activity. On the other hand, I fear that people over time will have less value for physical artwork and going to see art in person, and they will instead dedicate viewing time to seeing art as a 3 inch image in a phone screen.
HR: How do you feel about celebrity artist? Or anyone make their personal brand outshine their artwork?


.
I don't like it personally. I have put in thousands of hours to develop my craft and techniques, so when someone comes along and decides to use celebrity to give their art validation, I find it unfair and off-putting. At the same time, I am not one to judge and make laws for artists.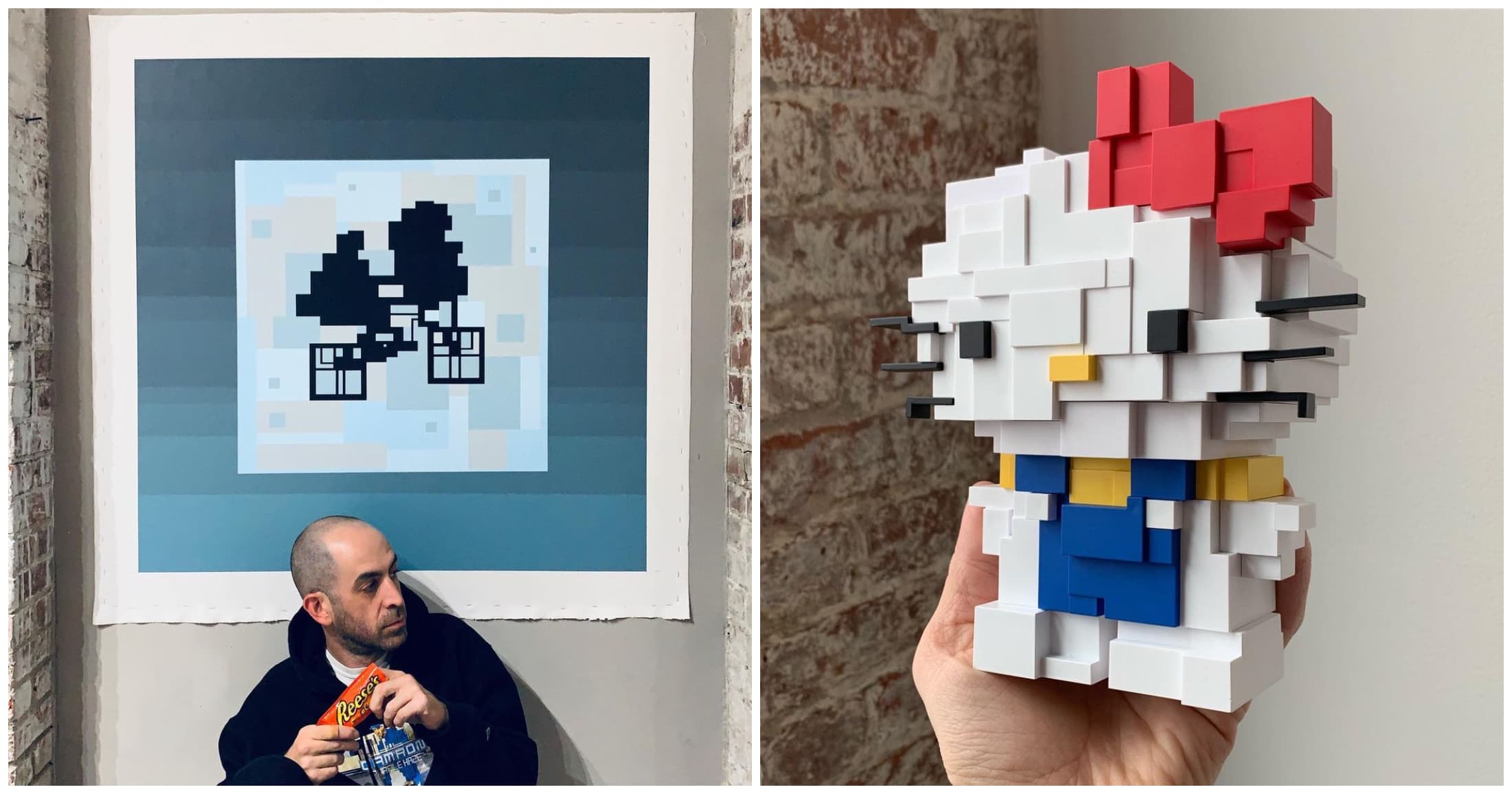 HR: Does the pandemic affect your creative process? Even the way you perceive your work?


.
The pandemic affect has been both positive and negative for my work. Negative in the sense that I had many projects and exhibits get postponed and some even cancelled. But positive in the way that I have been able to isolate in my studio and work with much less distractions from day to day.
HR: How do you feel about the art world post-Covid?


.
I am ready for galleries and museums to open! I think once rules for social gatherings and events ease up, we will see a surge in people wanting to experience real life things. So many of us have been trapped inside for the past year, there is an energy that is brewing, people want to see art and artists want to show art.
HR:  Any advice for your younger self or for aspiring artists?


.
I would suggest to not follow trends when it comes to your style and technique. Be yourself and make artwork that you want to see. Make things that you want to exist in this world. Also don't waste anytime worrying about the meaning of your work, just make the work! The meaning is for other people to figure out.
HR: It's 2021, any new plan ahead this year?


.
I have a lot of cool collaborations releasing this year, but I can't give exact details yet. I'm also currently making new works for upcoming exhibits in New York, Tokyo, and London.