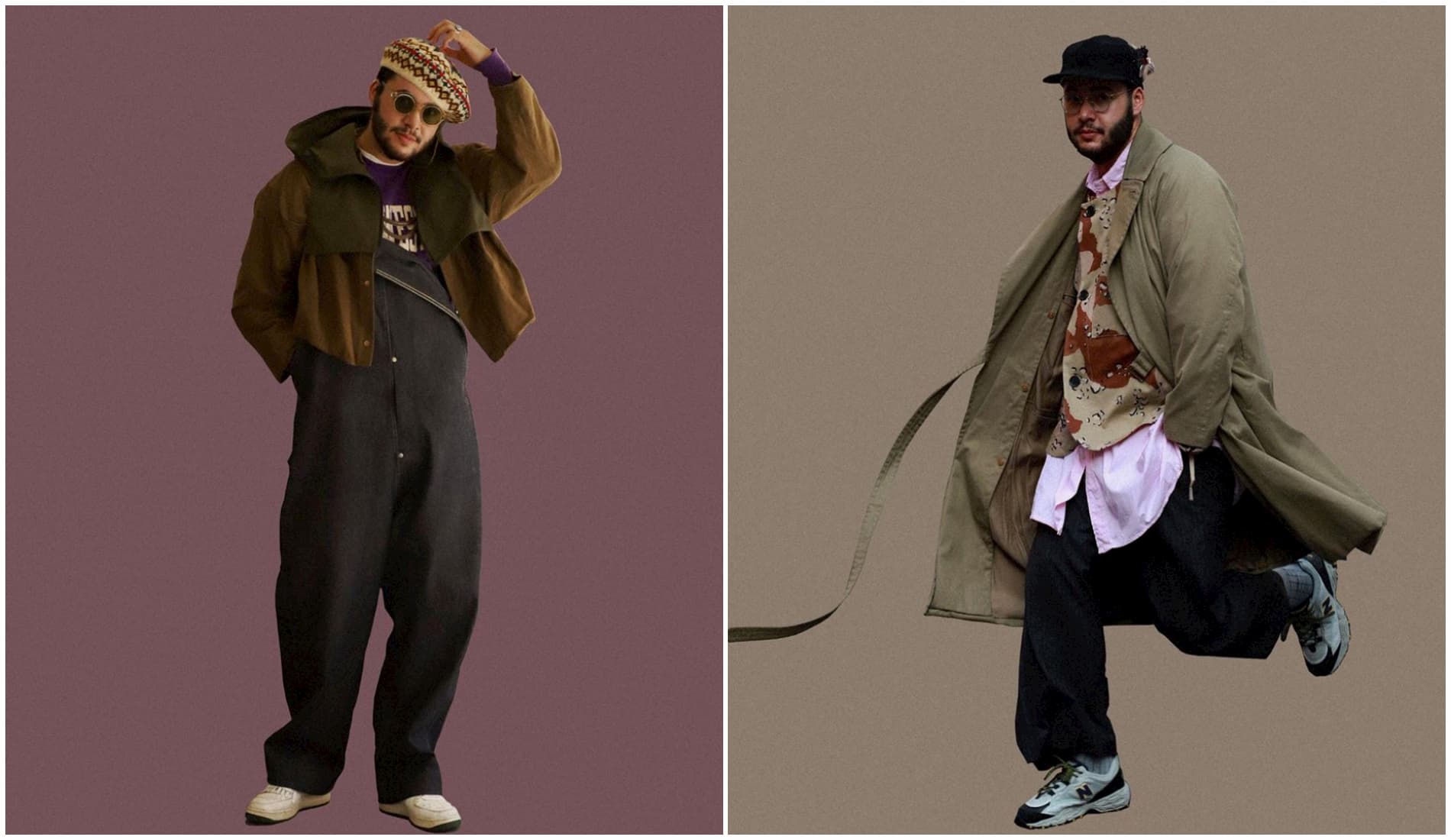 English
How Does Sillage's Nicolas "Yuthanan" Chalmeau Make Big Clothes So Classic?
Almost every stylish people will tell you their secret of being chic is "be yourself", but eventually, you will find yourself in an awkward and embarrassed situation without actual practical advice.
Dress up is definitely something that needs to be inspired and taught, which is an untold truth. For the fashion influencers, maybe it explains why they can create their own brands with fans' supports. This time, we have interview with one of our favorite Japanese-style fashion icons, Nicolas "Yuthanan" Chalmeau.
https://www.instagram.com/p/BxhJ-RVBmO9/
He used to live in Paris and studied fashion design, then moved to Japan in 2017 and launched his own brand, Sillage, which is described as rare, limited, and unexpected. Since Sillage randomly show through pop-ups among Asian main cities. We couldn't help but wonder what kind of brand that Yuthanan tries to create?
Interview by Heaven Raven
Nicolas Yuthanan Chalmeau
---
Heaven Raven(HR):When did you decide to post your daily outfits on Instagram, and what inspired you to do this?
Nicolas 'Yuthanan' Chalmeau:"Since I started instagram 7 years ago I've always shared my styling, It took a lot of time for people to understand my styling and what i was doing. Instagram is a great platform where you can share and promote yourself, naturally i started to do it."
https://www.instagram.com/p/ByXZV-Dhkia/
---
HR:You must be asked this question for so many times, but we still wonder how did you create such  special fashion style by yourself? Any special habits or interests?
"I think the main reason why people think I have a special way of dressing myself is that i'm wearing big size clothes. It's totally because of my body shape, big boys need big clothes. I've started to wear loose fit clothes when I realize that all I wanted is to be comfy in my daily outfits. And then I've started to buy everything bigger and bigger without any limits. Of course I like having fun styling myself, it became like a daily challenge to always search for something new."
"I'm also collecting sneakers and accessories, that's why I think people started to like it more, everybody love sneakers."
"Sillage is also promoting big silhouettes clothes, targeting people who wants cool and comfortable items made in Japan."
https://www.instagram.com/p/BvL8jReBRA2/
---
HR:Has anyone asked you, don't you feel hot with your outfits? How would you respond to them?
"For example last summer I was wearing lot of layers on instagram while it was super hot in Asia, that's true, it's too hot for the season. But what i usually say it's that there is no weather, no season on instagram, people should do what they want."
"In summer in tokyo I can't wear only a t-shirt and a short pants, I need to wear a minimum of layers, I don't want to feel like a tourist you know haha."
https://www.instagram.com/p/B13PSD-hWMS/
---
HR:Could you share some embarrassing pics taken when you were not good at styling?
"In the past, what kind of style you had ever tried?"
"I would not say embarrassing but of course I've already shot some outfits I liked less then others. But usually the problem is not the styling, it's more about me, I used to make crazy poses on my instagram feed, and sometimes poses were a bit strange haha. That's why i've never posted these pictures."
https://www.instagram.com/p/BubBT-Kh8aE/
---
HR:What kind of items or style that you'll never want to try in your entire life?
"For sure, skinny pants. I feel no interest in skinny clothes."
---
HR:Who is your fashion icon or style inspiration for the long run?
"Inspiration is everywhere, coming from anything. I don't have any fashion icons or just icons."
---
HR:Could you share your daily process of choosing outfits? How long do you usually take every day?
"Usually I just pickup the first pants I can find and then prepare a total look matching with the pants, pants is I think the key item in each outfits. But I don't take much time, It's quiet instant, i know that this tops and this jacket will match with this pants."

https://www.instagram.com/p/B00TYBHhvWd/
---
HR:There are still many people (especially men) who think fashion style is meaningless and unnecessary for them. For those people, what do you want to talk with them? (Rick Owens once said that people with ugly outfit is destroying the landscape)

"I would like the people to be more curious, a lot of people just copy each other to look cool or they just don't care about how they look. Your image is something everybody should care about, and everybody should try to have their own image, their own identity."
---
HR:Where do you usually buy your clothes? Please recommend your pocket lists (some special shops or places) in Tokyo.
"I have some shops I really have to recommend, this is my 2019 list
Issue in Gakugeidaigaku




"Cool vintage & ready to wear store, they have one the cleanest store with a cool selection."
https://www.instagram.com/p/B2jEu4_lLQv/
L'Echoppe in Aoyama
"One of the best select shop in Tokyo, a lot of brands from all around the world, usually not famous, because they go very far & deep to find these small labels."
https://www.instagram.com/p/B2gq7JYF3TQ/
Nid in Shibuya


"Cool select shop with some interesting brands from Europe, US and Japan. Staff are super cool."
Militaria in Koenji
"Vintage military store, selling a lot of European vintage, you can find some amazing pieces for a decent price, i totally recommend."
https://www.instagram.com/p/B1EEu-1gJPX/
---
HR:Would you please recommend your fav restaurants?
"My favorite restaurant, AFURI, please try the Yuzu-Tsuyu Tsukemen."
---
HR:In the past, people would learn how to dress up from Japanese magazines, like Popeye or Grind and so on. But do you think Japanese magazines have the same impacts to young generation as before? Has it kind of been replaced by social media?
"Yes totally, I think being featured on a magazine is still good for your image, but for the readers I think the impact is less than before. For example it been a while since I've open a magazine. "
"Social medias are much more powerful now, stronger and stronger."
https://www.instagram.com/p/Bt5YiS9hhxm/
---
HR:In recent years, There are so so so many fashion influencers or celebrities who lunch their own brands, however, the quality of product is not good to their fans. What do you think about this?
"That's not cool, and this also means that the celebrities themselves have no good tastes or just no respect."
"I'm also having my own brand Sillage, but what I want for the people who follow me is totally the best. So many people are trusting me and I can't disappoint them."
"As an 'influencer' you should show the example, and sell decent production to your fans, if not, don't start a brand."
https://www.instagram.com/p/B0c5eUhBM6q/
---
HR:Is there any fashion situation that you don't disagree or you hope people could change it in the future?
"As i said before, people should start to be curious and research, they should not copy each other, they should wear what they want to."
---
HR:How do you feel when people copy or follow your style on Instagram?
"If I can help people to be more creative and being more curious about how to dress I'm happy. I think people who follow me they just get inspired by my work but the don't really copy. I can see some people copying the way of editing my pictures, but it's fine, it's Instagram."
https://www.instagram.com/p/B0u-zMKBOnf/
---
HR:For those who get inspired by style, could you recommend some must-have items or style tips?
"Haha, my main recommendation is to be comfortable in your clothes, if you feel too tight in your clothes it means that you should buy bigger sizes. Also, it's a lot about the details, don't hesitate to customize your clothes and accessories, that's how you'll be different from others. "
https://www.instagram.com/p/BzfelyxBi2X/
https://www.instagram.com/p/BtawegEBhiA/
---
HR:How would you feel if there were someone copy the way you post, like image mating and filled in color background?
"In this case, it's not getting inspired it's totally copying, so i'm a bit against."
---
HR:We find out that the quantity of Sillage's products is quiet small, why?
"All Sillage quantities are limited, because I want people to always wear something new, so we never release twice the same items and we always create new things."
---
HR:Do you think nowadays fashion industry develop in freaking high speed, and product-driving too much? Do you think it's a positive or negative situation for fashion industry?
"Too many good merchandise isn't bad, but too many bad merchandises is terrible."
"Right now the market is very saturated with bad quality products. And it's getting worst and worst. That's why with Sillage we decided to be out of the fashion industry, we are only based online so we know to who we are selling, we are having pop-up in a lot of cities where my followers are to see them and tell them that Sillage is a brand who respect craftsmanship and qualitative values."

https://www.instagram.com/p/B1-vh3vl8_w/
---
HR:There were Sillage pop-ups around Asia. We wonder why don't you just sell the products of Sillage at specific physical shops? 
"I'm not looking for any retailers, because I want to keep control to who i'm selling Sillage.
But we will keep coming to cities in Asia, of course !"
"
Usually I just pickup the first pants I can find and then prepare a total look matching with the pants, pants is I think the key item in each outfits. But I don't take much time, It's quite instant, i know that this tops and this jacket will match with this pants.
"