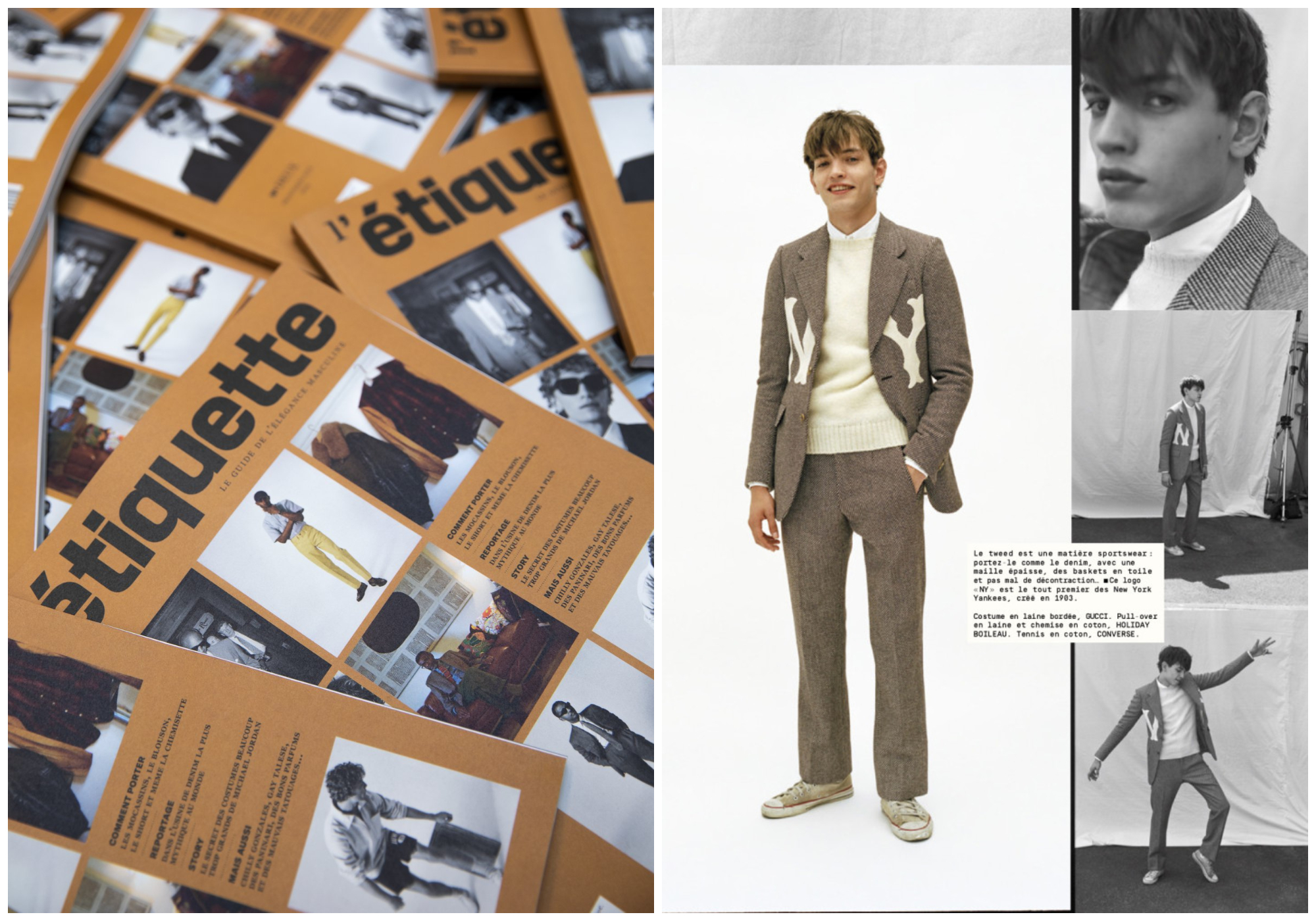 English
Interview with Marc Beaugé, Co-Founder of French Magazine L'Étiquette
France is the country of fashion. Paris is the epicentre of the happenings in the fashion world. Parisian women have been the muse for many fashion writers and publishers on style. But what exactly is French men style? It seems to be more difficult to capture. Marc Beaugé, a seasoned journalist, founded one of the most exciting menswear magazines in 2018 — L'Etiquette that is trying to explore the notion of French menswear. The mix and match of a vintage Audemars Piguet and a pair of Converse to go with an Uniqlo tee. The nonchalance from the front to the back of the biannual magazine is an antithesis of what main stream fashion magazines look like these days. Via a Zoom call, Marc Beaugé talks to Heaven Raven about his magazine, his experience of dressing a French president, what word appears the most in his magazine and what quality journalism means to us.
---
Heaven Raven: Could you please tell us a bit about your background and how did L'Etiquette come about?


.
Marc Beaugé: I've been a journalist for 15 years now. I have been writing about many different subjects. I have written about music, football, politics and more, moving from magazines to journalism. For the past few years, I've been the chief editor of a society magazine called Society, it's one of the biggest magazines in France in terms of distribution that talks about politics, society and, a bit of every news subject. I was a music critic at some point and on the side for about 10 years I've been working on style, on clothes and on fashion that got me interested into clothes. How would a band dress? Why would they wear that kind of clothes? I wrote a little book on how rock stars would wear a tie over the years and decades — from Bryan Ferry to Kurt Cobain to Billy Holiday and Karl Burke, for instance.
My great-grandfather was a tailor. So there's a bit of fashion tradition in the family. I also wrote a bit for GQ  and Le Monde about how you could dress. The clothes that I write about are not catwalk shows, but the way people dress and the way politicians dress etc. Then I started working on TV, having a segment on the biggest late night show in France about how people dress.
A few years ago, I was commissioned by the French President Francois Hollande to dress him.
HR: That's interesting?


.
MB: I went to see him in his palace. He's very kind, very funny and open to new ideas. I told him that he should change his glasses. He did it the next day, but I didn't get to pick the specific glasses he bought, but he changed the next day. I also advised him on some shoes but I didn't get to choose the shoes. I could only follow the changes from a distance. It's not easy to reach a very good result unless you are with the person on a regular basis. Also, his liberal status limits him to spend fortunes on clothes. It was an interesting project.
Two years ago, with my friend Gauthier, who is a specialist in big stage clothes and styling, we thought it'd be a good idea to launch a fashion magazine, but not the kind as most people know. It's kind of influenced by the Japanese way of talking about clothes — being very specific, precise, easy and relatable. The outfits are simple and easy to wear. Some sections to talk about the culture of the clothes. We try to tell people that fashion is more of a culture with people, knowledge and history, but not just an industry. Thankfully, readers like our idea.
https://www.instagram.com/p/CA9sBP-KNOC/
HR: It's not an easy investment decision to make, is it? When print industry is shrinking and it takes a great deal of commitment once you've started the first issue. Could you walk us through that experience?


.
MB: The magazine is owned by us and the media group that owns Society and around 10 magazines now. We are quite familiar with launching magazines. I personally have launched four or five magazines. Hence, we know how to find the economical balance to make it possible to keep printing magazines. We don't spend fortunes on marketing or studies of readers. We focus on putting the money on the aspects that we consider the most important, so to speak, what makes the quality of the magazine? The articles. The printing. The photo shoots. We did think how to attract the big advertisers so we could break even before the magazine reaches the shops.
We did reach our target before the first issues. But the tricky part is that we don't want it to be an advertiser magazine. We want readers. Content is for the readers, not advertisers. We don't want to talk about shops openings and new collections from brands. We want to make our content interesting to our readers. If our readers like to read L'Etiquette, it will be beneficial to the brands in the end. For us, it doesn't work the other way around. We share a kind of culture with our readers and brands will want to be associated with us.
Some brands get it. We are very close to brands like Hermes and Chanel whose brand have got history and culture and they are independent. They understand the importance of doing something of quality. But we also struggle to have some brands from big groups to understand our policy. But we won't change. If that doesn't work, we'll stop. We don't want to do a leaflet for brands. It doesn't interest us.
HR: I absolutely agree with you on this. Media have to be careful with what brands they are associated.


.
MB: Advertisement is not bad. But some are just not our aesthetics. Even we could bring 5,000 euros per page, if it doesn't fit well, everyone will be upset in the end and bad reputation.
HR: What are the values of L'Etiquette?


.
MB: the main word is quality. We like quality in clothes; we like quality in articles and pictures. We don't look for cool or seek for coolness. Sometimes quality is cool; sometimes it isn't. We do our best to maintain quality in every level. The paper, the photography version and everything should be quality orientated rather than money orientated. The clothes we like to show are usually quality made clothes. We are not against young designers, obviously, if they work well. We try and stay modern in terms of styling, but the clothes should be quality rather than cool.
Having quality clothes embodies sustainability. You wear them for years. You repair them rather than replace them. We don't say, "Stop buying clothes." We'd rather say, "Buy quality clothes. Look for the vintage option." Vintage clothes stand with the test of time. Quality garment is the proof of the quality. We advocate vintage clothes not just for the style but also for its quality.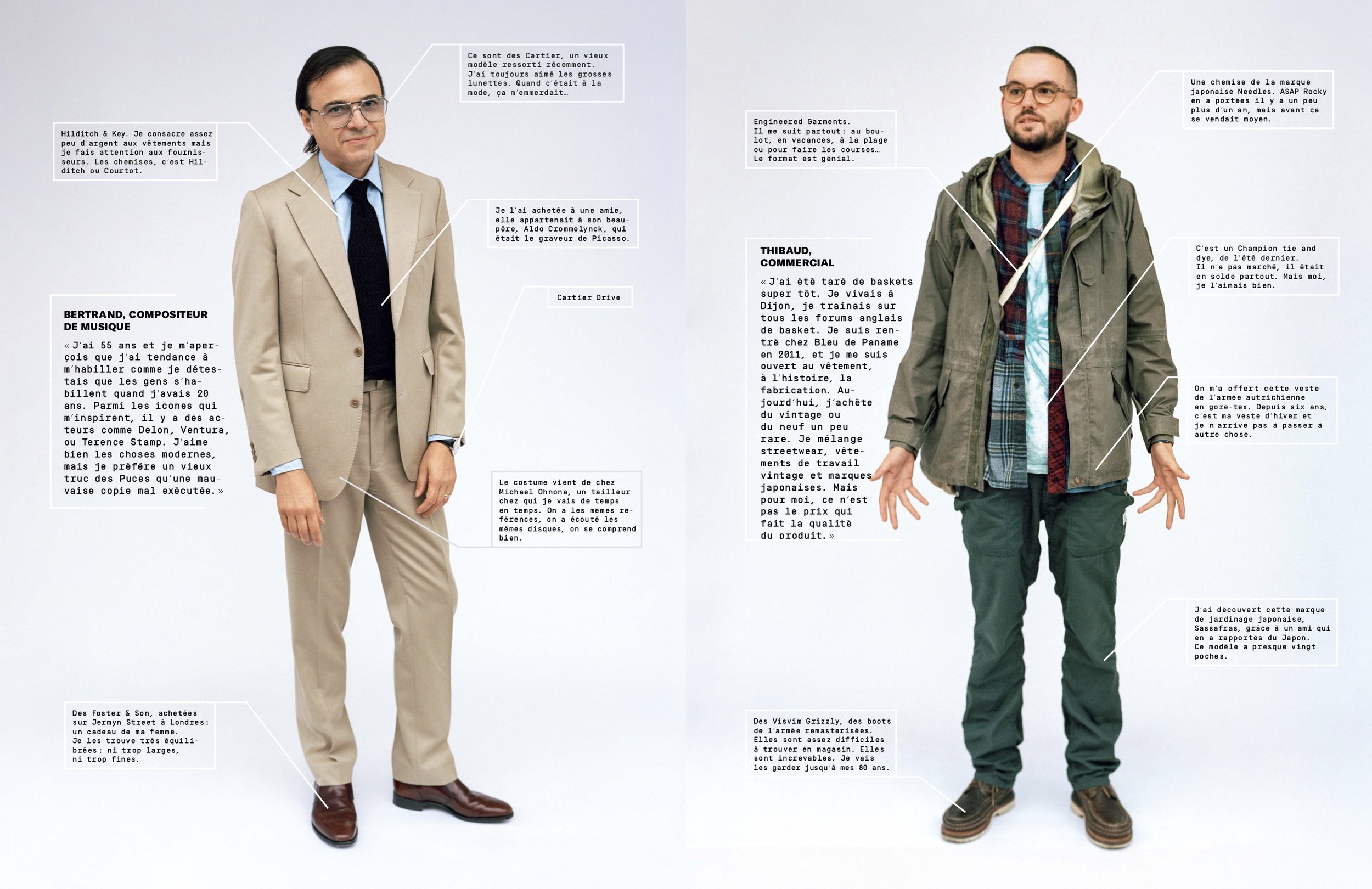 HR: Who are your readers?


.
We aim to be very inclusive. We don't want to look snobbish or inaccessible to people on the opposite. Some readers are very much into fashion, work in fashion, such as designers from Hermès and CEO of brands. Also, we have artistic directors for brands, photographers in fashion who are very happy to have a magazine where they can steal some brands names, some maybe ideas about styling. We also have readers who are basically new to style, who need to be told that the first suit should be a navy two buttons suit, and how to wear a Levi's vintage 501.
Our readers are aged from 15 to 45. It's a wide range of age. We don't want to be a niche magazine, but try to be as mainstream as a styled magazine can be. We don't do fashion outfit like other major fashion titles. We want to make looks that guys can wear to work and show clothes you can wear when you have a real work in a real life.
I work on TV and we have two millions of people watching for the segment. We talk to people. We don't just talk to 1,000 guys working in fashion in Paris.
HR: Many are talking about niche markets these days, and you are doing the mass. Please tell us more.


.
MB: A suit by Cifonelli or a Ralph Lauren suit, a pair of Alden, a pair of adult 501, a pair of denim, Converse made in the U.S., Prada. These are all quality clothes. We don't have a specific style because we are very curious about clothes. Rick Owens, for instance, makes very good quality clothes too, but it's difficult to wear and not quite my aesthetic. It's great to see someone who is doing something with a thinking: I am expressing a vision. The culture behind a product is important, not the price tag. A Hermès bag is as good as a pair of loafers made by an artisan in the US that would cost 10 euros.
We sent a journalist and did a long piece on Thom Browne. He spent 10 days with Browne — had chats with him, joined his catwalk show, went to his family village. Not many nowadays do this kind of fashion journalism. We don't do an article to please Browne, but we are interested in his vision, and wanted to find out why the proportion of his suits is difficult to wear.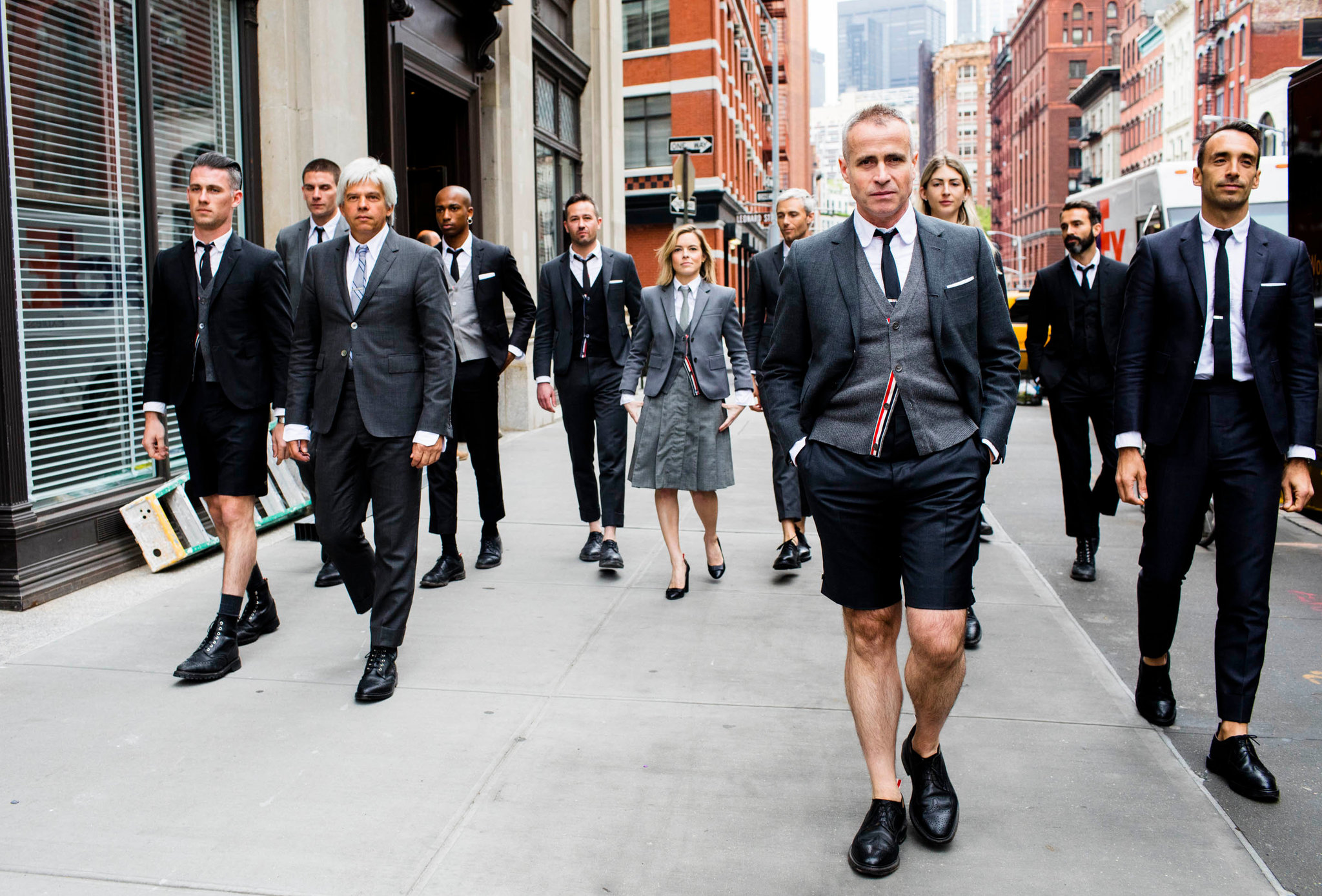 HR: Is vintage clothes becoming more and more popular now?


.
MB: It's difficult find a reason not to dress vintage. It can be more stylish, less expensive and being more responsible for the planet. People should make an effort and explore. It might be more difficult to find the right size. But, for instance, denims are the good starting point. You can buy new denims, but there are so many pairs available in every size and in every colour and every fit in the vintage market. One should be able to find a suitable one.
Wearing vintage is not prevailing here in France. You can see it's growing but not a big market. We are the country of fashion and we have brands that have been showing their collection in Paris for decades. Fashion is all about new stuff. When it comes to vintage clothing, we don't have the same depth as, say, Japan.
For us, vintage is more than clothes. We respect the savoir-faire, the knowledge of past generations, and the way they want to preserve the art of making things, of making culture. The French word "mode" is an abbreviation of modern. La mode is the French word for fashion is modern in itself. So it's difficult to go against that idea that fashion is not new in France.
HR: The artistic direction of your magazine is quite distinctive. How did it come about?


.
MB: We wanted to do pictures where you could see the clothes. Strangely, in most fashion magazines, you don't see the clothes anymore. You see pictures, some blurred guys, or guys lying on the beach, even on a helicopter or a camel behind. Why is that? It's probably for several reasons: probably because clothes are not as interesting as they used to be? Maybe also because the photographers are not really well paid for the fashion shoot in magazines nowadays, so they want to make it a place to express their art?
We don't want to do a photographer's magazine. We want to do a clothes magazine. Our photographer Sean Thomas is very good. His pictures are perfect and very accessible and modern. He helps the clothes but not his own career or his own talent or his own pictures. He should just be working for the clothes to be seen. What's important for us is to have just one photographer who helps us show the clothes.
https://www.instagram.com/p/CA0d3NfKzTE/
HR: Is the print industry struggling in France?


.
MB: Unfortunately, it's struggling big times. There are less and less magazines. Less and less places to buy magazines. The magazines that are doing well and surviving are mostly independent magazines doing their own thing very well — that's what we try to do. We define a vision rather than just a business. We define a culture rather than just an industry. We print 70,000 copies and we sell between 40,000 copies and 50,000 copies of each issue.
HR: It's a big number for a new magazine, isn't it?


.
MB: I talk about it on my TV segment. It definitely helps a bit. We didn't totally start from scratch. I'm also the chief editor of a magazine called Holiday magazine, which is a travel fashion magazine well respected in Paris or abroad. All the guys working on the magazine are very respected and well-known in their own rights. We are benefited from the knowledge, the relations of everyone on, so we are able to do something big and ambitious.
HR: Let's talk about ambition. What is the plan of having the magazine in English next year?


.
MB: We do export several thousand copies of the magazine. It's in French and it gets sold. So we are planning to launch the English version in March 2021. Most of the content will be the same, but excluding something too French, the content that could only resonate French readers. Translation is also the tricky part. In French, L'Etiquette, the writing is very important because it's serious, but slightly funny. Some cultural references sometimes are very French that doesn't translate literally in English, so we have to find a way of have the same spirit in English for the English readers. We have to find a guy that's smart enough to translate the spirit. Magazine is all about the spirit. It is not like a pair of sneakers that you can sell the same to a Chinese or American buyer. The word, the idea and the emotions are all sensitive. We have to do it very carefully in a smart way.
Before that, we aim to launch a website that would be in both English and French in January 2021. We are an independent group called So Press with about 70 staff now. We started about 15 years ago with a football magazine and we have developed launching new magazines over the years. A news magazine, a movie magazine, a cycling magazine and we also do productions for advertisers. We do brand content, we have a podcast production.
HR: How about the podcast programme, Habitudes?


.
MB: Habitudes works well. We have run it for about 18 months now. It's a very French thing. In podcasts, you need to be in the native language. We have some of the coolest guys in music, in movie, and well-known guys to tell us about their relations to clothes. How did you dress as a kid? How did your father dress? Did you have money when you were growing up? Were you cool as a teenager? How did you seduce girls through the clothes? When did you first buy your expensive watch? Basically, all the life of a guy can be explained in detail through clothes.
Clothes are a very nice way of talking about yourself without talking about yourself. When you ask a guy, "Did you get on well with your father?" One will usually be a bit shy about it, but when you ask a guy, "Did you dress against your father?" He will be more active with the creation, but in the end he will basically explain the same thing. He will basically speak about his relation to his father.
Clothes are a very efficient way to have someone talking about a very intimate subject, like their body, their relation to money, like their relation to growing old. We managed to have these guys saying stuff they wouldn't normally say. We have biggest movie stars in France and they start talking about the fact that they find themselves too fat with a question — "How do you wear your denims?".
No one dresses up or down themselves by chance. Even when you are not into clothes, you choose between the white t-shirt or the black t-shirt. You can show me how you dress and I will tell you who you are. I think it's quite true.
We just talked about clothes are more than just dressing? The number of mentions of father in the magazine is crazy. Apart from loafers, papa is perhaps the word mostly mentioned. Every guy we speak to mentions the way their father dressed.
HR: Is podcast a tough business?


.
MB: This podcast is a difficult industry because you don't get money from business. We are happy to have Chanel as our sponsor. They don't ask us about anything. They don't change the guest. They don't check what they said. The guests don't talk about Chanel. If you are associated to a quality podcast, it's beneficial whatever the guy's saying.

HR: Have you also considered doing video?


.
MB: We are thinking of it. We have a production unit at So Press. We do movies for brand such as Peugeot and Evian. But we are in no hurry. We think very carefully. It has to look good. It has to make sense and bring something to readers. A good content makes some impact to your life, maybe the way you dress, the way you think about clothes. Essentially, the content has to make you a bit smarter. That's what makes content addictive. A good magazine to me is culture, something that make you intellectually richer and service.
HR: What about the notion of French style or Parisian style? Do you think it exists?


.
MB: French menswear style is a bit of a mystery. It's difficult to define. You can easily define the Italian style, the English style, the American menswear style, but French menswear isn't as precisely defined easily. Yet, it's important we try be the advocates of the French style because it's a rich culture. France is a womenswear country. The longtime references of the culture of clothing in France is very much influenced by the womenswear. Maybe that's why the way guys dress is something a bit feminine and a bit androgynous.
HR: True. Compared to the macho and bravado in latin cultures.


.
MB: It's an interesting question. I have to think about it. I think French menswear is at the crossroad between something very influenced by military, like the English style and something very Latin and masculine or macho if you want to put it in just one word. We try and mix a bit of that. On a suit, the Italian shoulder will be very soft and round. In England, it will be very square. You would wear the suit with a tie. We are at the crossroad of that and if you look at French tailor like Husbands, it's interesting to see that they will probably wear the open shirt as an Italian would do, but the shoulders will be very English. They will be very defined and square. Well, I think we stop defining the French style in reference to the English style or Italian style.
https://www.instagram.com/p/CCK7HViKg9n/
HR: But when I flip through the magazine, the style is definitely very French.


.
MB: I take it as a compliment. There are so many ways to wear a garment. You should see us on set doing the styling with Gauthier. It takes like half an hour for each outfit. Should we tuck the t-shirt in? Should we pop the collar up? Should we wear a belt or no belt? Socks, no socks? We most of the time very much agree, but we can fight on an outfit if we don't agree. We can be depressed by an outfit if we don't find the best solution. It sounds so superficial, but there is having a philosophy. Philosopher Friedrich Nietzsche said, "You can be superficial by depth." I don't know if it's virtuous, but we are very deep into being superficial.
HR: How do you see the cultural and fashion journalism these days?


.
MB: There isn't many magazines I find inspiring and interesting. Many work for advertisers. The danger to is will be the time when advertisers ask more and more from us. The bigger you become, the more they ask you to do for them but not the readers. We have to be very careful. Otherwise, we will lose our soul.
When I mention quality and that we don't want to do a snobbish magazine, it's not just a message but that's how we live and believe. Not being snobbish, being sincere and doing quality stuff. With these values in mind, we naturally defend sustainable brands. We will very naturally include people of all colours in the magazine. We will very naturally stay in touch with the subject of the time.
I work as a news journalist. I've been writing about politics, editing articles about any subject that are in the news, basically. We are not obsessed with being respected by the guy from fashion. I'm too old to be excited about going to a catwalk show. What make me excited is being able to be smart enough to be able to capture topics of the time in a fashion magazine.
When we talk about the white t-shirt culture in LA, we talk about the way communities talk to each other. When we have an article about the French president Francois Mitterrand in the fourth issue, we talk about the way the left in France failed the '80s.
HR: How did you and the project go through the Covid period?


.
MB: It was a pain in the ass. We had to delay the launch of the fourth issue for two months. We lost a couple of advertisers, but nothing dramatic. In the end, we'll be okay. It's an organisation grounded in reasonable ways.
HR: What's the sentiment you get from your friends in fashion and media?


.
MB: People seem to be getting very quickly back to their life of before. It'd be fantastic to see people spending less on superficial things and spend more efforts in making quality things. But I am doubtful. Maybe in a few months, everything will be forgotten but at this stage, it's difficult to say.
HR: Many fashion critics left their position recently, like Suzy Menkes left Conde Nast. Does good writing still matter in the time when visuals are more appealing?


.
MB: Good question. I definitely hope it does. And I think the magazine where writing doesn't matter anymore are bad magazines. Even when we put pages on Instagram, we always have big texts because we explain stuff. We tell stories. I'm surprised when some magazines put stylists as editor in chief. Stylists in charge of magazines? I wouldn't say it's a good thing. Journalists should run a magazine working hand-in-hand with stylists and an artistic director.
A magazine without words is an Instagram feed. I also have seen some big names, big writers left positions at big magazines. Obviously, words are more complicated to be handled than images when it comes to brands. But words are the key to create a relation to readers. Maybe I am just defending my job here as a journalist. But words are the soul of a magazine.
The problem with fashion journalism is that we don't have enough journalists saying what they think. We don't have enough fashion journalists expressing what they honestly think about certain issues. Why? Obviously to please the advertisers. It's definitely a problem.
When you read catwalk reviews and after-show reviews, who are we writing for? It's a dilemma when you get too close with advertisers and in the end they will say you are not genuine or you have lost your soul. How can they be happy with just words that doesn't mean anything? You have lost your soul to please them.
Maybe at some point we would do catwalk reviews too. Why not? We'll have to find a way of being smart to make it interesting. But, more importantly, we have to take an independent stance of it. L'Etiquette is small and new and maybe we will close in two years. If you want readers, and again if you want to keep advertisers, do quality journalism.
---
*This interview has been condensed and edited for length and clarity.
Text by HR Contributing Editor/ Kurt Lin