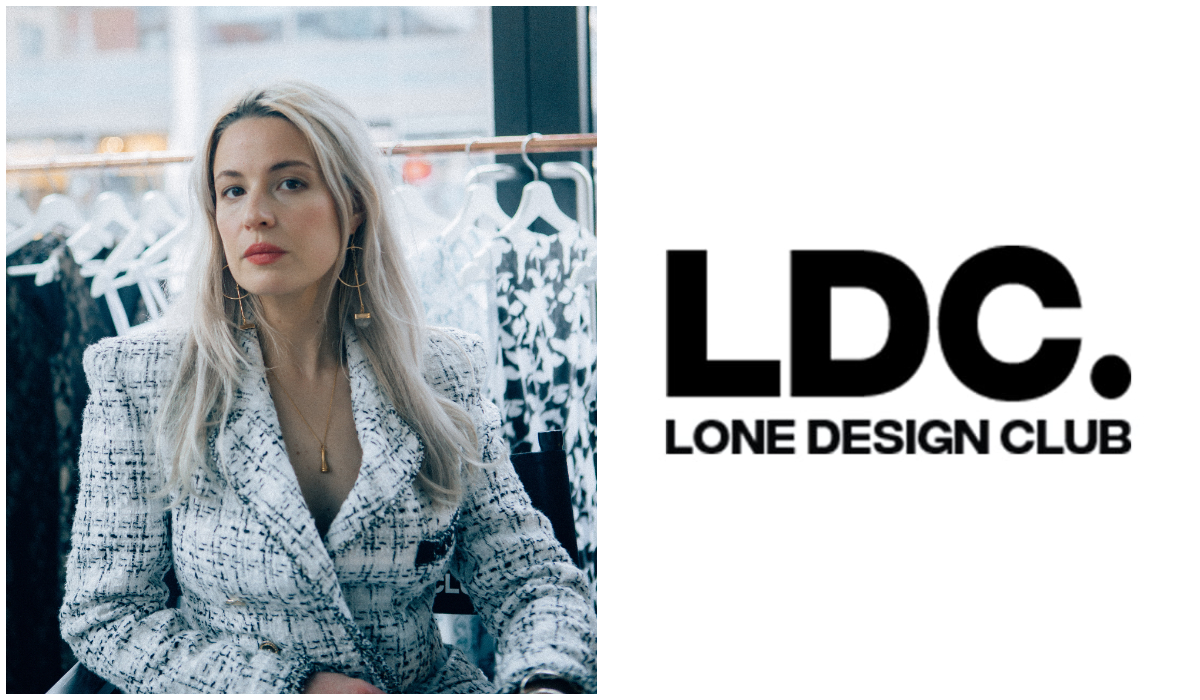 English
Q&A with Rebecca Morter, Founder and CEO of Lone Design Club
Lone Design Club is the latest stage in your journey from designing to retailing, what spurred the change for you and was it hard to switch that focus?


.
I was never hugely into fashion until an internship I did in New Zealand before choosing to move to London to study it. I was always on the entrepreneurial side but began to love fashion, the industry and creativity it came with. In 2015, I founded my own womenswear brand called REIN London, after being picked up by the British Fashion Council, Lady gaga, Charlie XCX and Jessie J.
I soon found direct to customer the easiest route for sales, as it gave real time feedback on the brand – what pieces customers liked, what they engaged with and what was important to them in purchasing clothes on the spot.  I found this a much more profitable route than wholesale and an easier avenue to go down. We slowly did more pop-ups and more brands asked to join the community and share resources.
Sustainability became a core value as we grew. Increasing number of designers were joining making huge strides in sustainability and ethical innovation and I began to find a stronger purpose supporting these brands as to having another brand in the mix.  I felt I was making more impact on small business livelihoods and curating such a special experience for customers, highlighting designers they would never have found otherwise.
Throughout these years I was fortunate to meet some great people and have a variety of experiences that allowed me to learn a lot about the industry, and how it often fails and forgets sustainable design. It was through these tough years that the idea for LDC was born – I wanted to use what I learnt to create a platform to support fresh, sustainable independent brands.
https://www.instagram.com/p/CAnnJGxge6f/
Q2:
How many people are now on the LDC team, and where are you looking at as your growth markets?
. 
I still remember the first day we officially launched LDC and there were just two of us, plus a business mentor, supporting and given us the confidence needed to really take us to the next level and grow.
With 5 full timers now, we are a little smaller than before. This size has worked out well with Covid-19.
It's challenging being a business so reliant on physical during these times but has given us such a wonderful opportunity to focus on building our digital presence. With a wonderfully growing e-commerce platform which is our main focus for now.  We are finding it so efficient and easy to connect virtually with designers and customers all over the world.
https://www.instagram.com/p/B9eY1wsA94J/
Looking back and seeing how much we've grown really makes me feel so proud. We currently have a strong following in Europe. Our focus for 2020 was to continue to expand our presence in Europe, further in the UK and also develop our work in South-East Asia and around the world in 2020 but halted plans for the time being. However we may have to wait until next year and will come back stronger!
We intend to stick to the omni-channel model as we truly feel our pop-ups allow us to engage and build a trusting relationship with our customers but digital is such a crucial part of life, especially now. New challenges are to figure out how to bring our meet-the-designer experience to around the world from the comfort of their sofas. And we are exploring so much – podcast, shop the club styling videos, open studio zoom sessions, collaborations with our brands.
Pop ups have become big business globally and have begun to present a third path for designers looking to move away from traditional bricks and mortar stores and who don't feel that being fully digital is the solution, how does your concept plug into that?


.
Pop-ups have always been an integral part of what our brand is about. Since our inception, our prime focus was to build the bridge between independent designers and their customers. The most effective pop up is short term for maximum impact. It brings a strong call-to-action to customers to visit within that 2-week period. You can add to this daily events and experiences as further calls to action. Creating an experience a unique experience customer won't get anywhere else on the high street.
One of the most rewarding parts of creating these pop-up spaces is giving a voice to these talented emerging brands. We try to make each of our stores as exciting and immersive as possible, theming the stores around current events, such as Chelsea flower show, Wimbledon tennis, fashion week and we are also short term for maximum impact. Ultimately pop ups are a great way for any brand big or small, to personalise the experience of shopping for their customers, and experiment with an interactive shopping event. I personally think these are fantastic opportunity for brands to learn about their consumer and exactly what they are looking for.
What do you think makes LDC stand out from the competition, we see many pop-ups in London; it must be difficult to build the brand and voice with such competition?


.
My number one ingredient is sharing in every designer's success and learning from every mistake or set back – being passionate, driven and deeply caring is our secret formula.
It is not easy to stand out but our approach is a combination of trying, learning and reflecting. Being flexible enough to go with what works, we approach like a growth marketer would to find out what our customers really want and our designers and how we can facility and create that access.
We work really, really hard and I like to think that shows to the people who take their time to come to our events. In the beginning we spent a lot of time speaking to designers, customers, people in events to find out what people actually enjoyed.
Pop-ups take a lot of planning and we spent a lot of time making sure we had chosen the right venue, designers, speakers, music, drinks. We hand-picked everything with a goal to make every event to feel personal.
https://www.instagram.com/p/Bk5rxj-n0vp/
What do you think your designers see as the biggest strength of taking part in your events?


.
I think they really enjoy taking part in our events because they know they have our full support – we always make sure to include the designers in the events brief and include them in our updates in the build-up to the event. When I was designing and showcasing my brand I often found when I took part in shows or events that I had minimal information until I arrived on the day, where I usually felt nervous and wasn't sure where to setup etc. I know that feeling so it has always been important to me to include each designer every step of the way so that they know what's going on and feel really confident about the event.
Confidence is key. As a result, they do a fantastic job of speaking with customers and showing them new collections at the pop up. Most of them have come away with an array of new customers and contacts that they've built a lasting relationship with. You just can't do that over email.
Given the struggles the industry has been and will still go through this year we hear a lot about how many companies will close, what are your challenges currently?
. 
It's a very scary time for everyone in our industry and around the world. This is going to be a tough year for the fashion industry. Tough one thing we can all be grateful for is the wonderful technology we can use to stay in touch with everyone during periods of quarantine. We have been working hard to bring our in-store customer experience directly to consumer's living rooms whilst supporting brands in these changeling times. The new platform, LDC Digital, will be offering multiple online options making our immersive experiences accessible to all.
We will be hosting various digital events supporting wellbeing at this challenging time and to celebrate the coming of summer have launched our May digital store front in collaboration with various floral artists. June will see the coming of the new digital LFW; open to all LDC will be hosting several digital fashion shows and an online beauty zone.
https://www.instagram.com/p/BpP0oF7gARr/
You've also launched pop-ups in Milan and Shanghai, how did it go in China?


.
It was great on all accounts. We used our time to test the market and make crucial connections. A few of our brand sold especially well proving there is a great market for the designers. We started social channels, met with press and brands so validated our business model in china for sure. It was a great starting point, so we would hope to revisit again in 2021.
Many western businesses and journalists see Asia as the key market now, when you look at the long-term plan, how much of your revenue do you think you can drive from Asia?
. 
I think that's true – a lot of western businesses have watched a lot of growth and interest in Asian markets over the last decade and naturally want to expand their presence there. This is something we would definitely like to do too. However, we wouldn't do this with the intention of losing focus on our European customers. We would like to increase our global presence rather than focus on a sole market.
In terms of revenue it's hard to say at the moment, Asia is a huge market and part of future for sure; we would like to pop-up again in 2021 and are excited to see where we can take our brands in this market.  As well as popping-up in Asia, we would like to work with some Asian brands that are interested in the European bringing them presence here in the UK.
https://www.instagram.com/p/B-eXgJWAPwW/
How have you found working with Asian designers instead of European teams?


.
Inspiring with a good work ethic, they are innovative and detail orientated.  So much intrigue from the west people love and such a unique approach to fashion filtering through difference in cultures and surroundings – interesting to look at difference between and how compliments each other
As the influence of Asian designers has grown across the global industry, what do you think creatively has been so attractive to consumers?


.
As humans it is our natural instinct to be excited and interested in discovering and wearing new designers and trends. Most people who are creative and passionate about design thrive on finding new favourite styles and pieces. Much in the same way that a lot of Asian communities and designers love stumbling upon Western trends, we like to do the same.
The market and key fashion magazines have spent the last twenty or so years definitely focusing more on European style and trends than others. So, in that respect, there has definitely been a shift, in terms of fashion becoming a more equal and global entity.
The Asian market is much further ahead in fashion tech and virtual or digital communications realms. We love the wealth of fashion trends that emerge in the Asian markets, which have a feel of individuality but also sense of a connection and being part of a wider movement.
---
Interviewed and Text by Kurt S. Lin