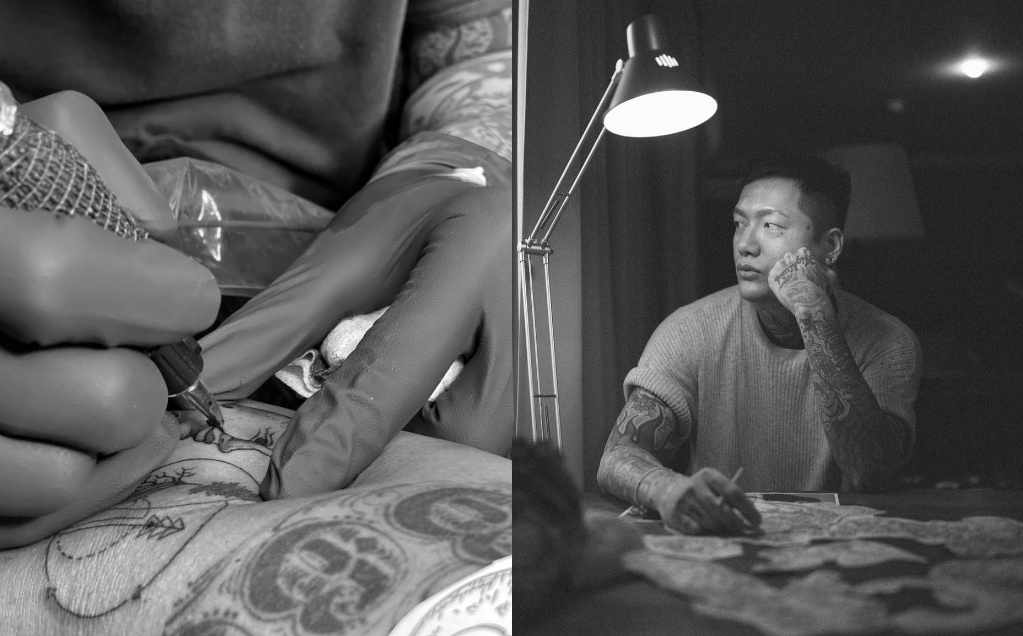 English
Tattoo Artist Josh Lin And Giving Back
It's been a year since our last interview with Josh Lin, the world-renowned tattoo artist. His tattoo talent is trusted by many celebrities, including Shawn Yue, E.SO and VanNess Wu. And while this celebrity-earn trust is why Lin has earned his prestige, it is the trust he's earned from breast cancer survivors that earns him admiration.
In recent years, Lin has devoted himself to creating nipple tattoos for many breast cancer survivors transforming their reconstructed breast to its pre-surgery, natural-looking state. With October being Breast Cancer Awareness Month, we caught up with Lin once again, inviting him to share his motivations and experiences in using his tattoo talent to give back to survivors.
Meanwhile, he also continues living up to what his mentor, Dawn Cragg MBE imparted to him years ago: contributing the knowledge and skills he has obtained to helping more people in need. At the end of the interview, Lin also mentioned his plan to tattoo for the breast cancer survivors in need for charity.
---
Heaven Raven("HR"):Hello, Josh. We've heard you've been digging into the tattoo technique for post breast reconstruction survivors. Is that true?
.
LIN:  "Yes, I've studied nipple tattooing, which is the technique of tattooing a nipple on the scar tissue of post breast cancer reconstruction patients. Mainly doctors practice it. During breast cancer treatment, cancerous breast tissue must be removed prior to a doctor transplanting fat or tissues from other parts of the body to complete a breast reconstruction. This results in a reconstructed breast that no longer is made of original tissue or a nipple. During the final stage of breast reconstruction, doctors use a tattoo technique to draw a nipple for the reconstructed breast to look similar to the original breast. This is a technique that I've been working on."
---
HR:How did you hear about nipple reconstruction tattoo in the first place?
.
LIN:  "I first learned about this technique in a general sense when I met Dawn Cragg MBE, but it wasn't until I encountered a breast cancer survivor in need of tattooing that this technique became something I wanted to learn myself.
I've been tattooing for almost 17 years, and have crossed paths with many clients in need of covering their scars of all sorts, but I'll never forget the shock I felt when I first saw a scar left after breast cancer treatment. It was large, and the nipple looked so different from an ordinary nipple. Knowing that these women fought to beat cancer and now are left with this scar that's beating their self-confidence – it really moved me. I wanted to help them.
When I saw the nipple the client's doctor had tattooed it didn't seem very realistic to me and in that moment, I thought, I can do better. I can do a more realistic nipple. And as luck would have it, I had previously met Dawn Cragg MBE, a specialist in nipple tattooing from London, so I decided to go there to have her teach me the technique."
---
HR:What was it like studying under Dawn Cragg MBE?
.
LIN:  "It was incredible to learn from a master. It was the most unforgettable experience in my life. What I saw her enthusiasm for this career from her early 20s up to now, it was inspiring. She actually started as a makeup artist when she was young, doing work like micro-blading eyebrows and eyeliners. Later, she learned to perform alteration appearance such as helping patients with burns or physical disabilities restore their original appearance. Therefore, in addition to breast cancer reconstruction, she is also adept at covering scars, making glass prosthetic eyes, wooden prosthesis, etc. When the Formosa Fun Coast Explosion occurred, Dawn Cragg MBE came to Taiwan and voluntarily rehabilitated patients by applying tattoo techniques to relax their muscle fibers post burn injury. Her expertise and passion for giving back to others was aligned with my own vision and truly an inspiration. She has been able to learn how to marry tattooing and the understanding of scar tissue to create meaningful art."
"Throughout the years, she established a long-term outstanding contribution to body reconstruction, which led to her being knighted by the British royal family, and she is the only non-medical staff to have a studio on Harley Street – the most famous medical street in the UK.
Now, in her 80s, she's dedicated her life to helping others with her profession. Her devotion to her career for decades has been her concern for people and life. Not only does she care incredibly for her clients' feelings during her working process, but she also pays meticulous attention to their safety. Before handing me my certificate, she had me look at her and promise that I'd use what I've learned to help more people in need in the world."
---
HR:Breasts are a relatively easy part of the body to cover up or keep private. Why do you think reconstruction tattoos are still so important for such a private part of the body?
.
LIN:  "As I see it, although being a more private part, breasts are very important for women. They can signify the femininity and beauty of being a woman. Survivors losing their breasts or nipples after surgery often experience feelings of inferiority. It may seem just like a dot or a coin-shaped spot, but every time after finishing a nipple reconstruction, I can tell the joy my client feels is far beyond that of ordinary tattoos, It's as if the part of them they thought was lost is again found."
In my perspective, tattoos are like the fragments of life, much like a nipple reconstruction. Good or bad, they represent a part of life. It's the accumulation of these fragments that make us who we are today. A nipple reconstruction tattoo isn't about how perfect the work itself is, but to help survivors piece back their fragments in a way they can feel normal and confident. Forever that tattoo now is a symbol for having beat breast cancer."
---
HR:What's different in doing a breast reconstruction tattoo compared with regular tattoos?
.
LIN: "I don't know if there's anything special or different other than that I have to assess if the reconstructed area can be tattooed safely. More attention must be paid to the condition of the scar tissue and skin area after chemotherapy. Unfortunately many breasts cannot be tattooed due to this."
---
HR:Do you find communicating with your breast cancer survivor clients different from your regular clients?
.
LIN: "Perhaps my perception of them is different. What they have been through actually makes the communication easier for me. They have faced so much hardship fighting the disease; they are brave and have a positive attitude. They see me as hope for restoring their body back before the disease, and I see them as warriors, which makes communicating with them exciting and free.
With my general clients, they come to me mainly to preserve stories or to mark a stage in their life with art – unlike a survivor who is rebuilding their story post the battle with cancer. I feel like I am part of a survivor's journey and it is an honor to hear their stories about treatment and recovery while I tattoo them. Somehow it feels as if I am walking them to the next chapter of their life."
---
HR:Though it's said that art has no gender, does being a man play a role in doing nipple reconstruction tattooing?
.
LIN: "Like any tattoo, when you're working with someone's body, it is about being a professional. I will say the technique itself is not easy to promote since Asia is relatively conservative. We have a long way to go in regards to the attitude about nipple reconstruction."
---
HR:Do you feel like your work is changing your clients' lives?
.
LIN: "I think surviving cancer changed their life. A tattoo on your body isn't life changing. Neither general tattoos nor nipple tattoos change a person's life, let alone turn a person into someone else. What tattoos can do is let you be honest with who you are.
What I have seen is when a survivor allows me to be on their journey it can change how they feel when they look in the mirror and that is a true honor. In reality, they change my life. Their stories, their courage, and allowing me to give back through my talents brings a lot of meaning and purpose to me as a person."
---
HR:A while ago, the Japanese government announced that tattooists no longer need a medical license. What do you think about that?
.
LIN:  "Tattoo culture has emerged from the underground and it's just a matter of time for the ban to be lifted. We as tattooists need to learn and practice proper safety for our clients. That is a matter of ethics. As the culture becomes even more popular and recognized by more and more people, I hope the idea tattoos represent and how they are seen in society improves. I hope tattoos can express the passion and a positive attitude for life."
---
HR:Do you have any advice for tattoo beginners or those who want to become tattoo artists?
.
"Getting a tattoo is permanent and meaningful to clients. Once done, it's hard to remove. Thus, no matter how long one has been in the industry, senior or junior, tattoo artists must constantly practice and refine their own skills, including myself. It is a profession that doesn't allow mistakes. My advice to any novice is you must rely on patience, faith, and hope. It takes a great amount of time, patience and endurance to be a highly specialized tattoo artist. Every practice might come with a great sense of frustration because you invest lots of time on it and barely see any progress. Doing something easy to see the results is boring, but doing something that goes the opposite way only leaves you faced with the exciting unknown. You have no idea how great you will be, so hope fuels your endurance."
---
HR:What would you tell readers of HR seeking nipple reconstruction?
.
"I would tell them to contact me on Instagram. I do charity tattoos for breast cancer reconstruction – especially in celebration of Breast Cancer Awareness Month. Anyone with the need of breast reconstruction is welcomed to contact me. I look forward to continuing to use my skills to give back to the community."