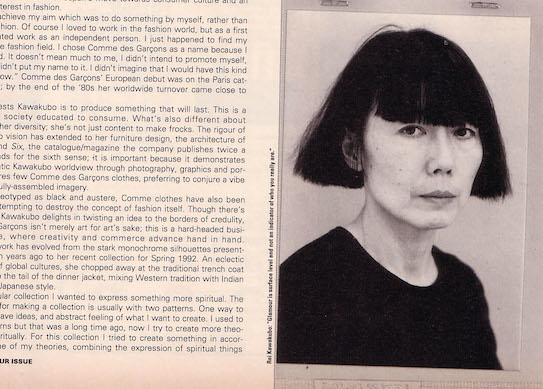 English
The Ultimate Guide: COMME des GARÇONS / Rei Kawakubo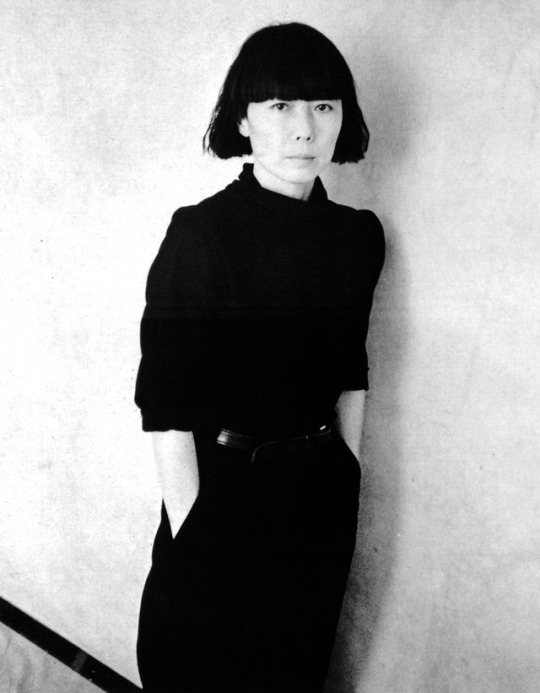 Born in 1942 in Tokyo, Rei Kawakubo founded fashion brand Comme des Garçons in 1969. She commands considerable clout in 1981's Paris – every contemporary designers had tremendous respect for her. Suzy Menkes declared her to be one of the most influential designers in the 20th century, and this was echoed by Marc Jacobs.
In the book The Study of Comme des Garçons, the author categorises Kawakubo's design aesthetics into three periods:
First the Pre-80's, known to most as the "aesthetics of poverty";
Second, the period from 80's to early 90's, defined by a subversion of traditional tailoring;
Third, it was a time characterised by innovation – setting themes for design, adding new meanings or interpretations, focusing on a fresh comprehension of the silhouettes of garments.
Fourth, that exaggerated couture-like style is as if a revolt, if not a critique of the dreary state of affairs of fashion right now.
Right Now, Rei Kawakubo leads us into a deep and inner world, she said "Before the last collection (18 F/W). I felt it was time to change my way of doing things. Every so often I want to change completely. It's a way, I hope, that allows me space to find something new."
1. The Beginning

.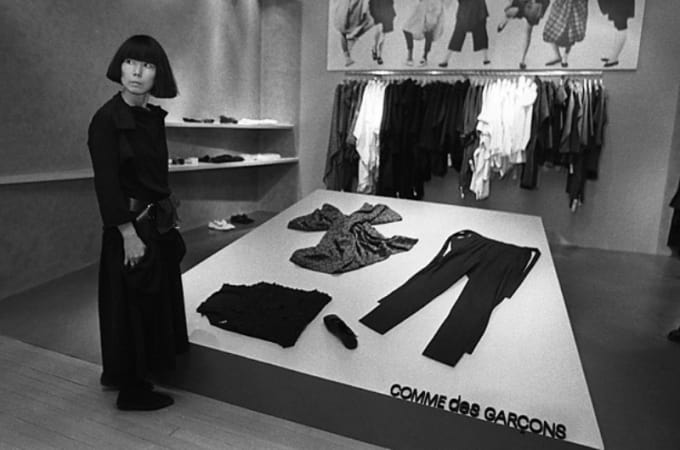 "When I was about 24. I'd been working in the adverstising department of a textile company, and I was asked to style the print ads and TV commercials. I liked the work so much that after two years I decided to leave the firm and work as a freelance stylist."
During an interview with Vogue in August 1987, she said "In about 1969, I rented a room that was part of a Tokyo graphics design and set up with two assistants." What sort of clothes were produced? "Clothes I felt were modern and new. But they were commercial as well; I was in business, and I had to support myself."
Many said that in the beginning she became a designer because she could not find clothes that she wanted, there were a lots of saying, but one thing is sure. she was frustrated by the way we chose the clothes.
---
2. How did Comme des Garçons come about?

.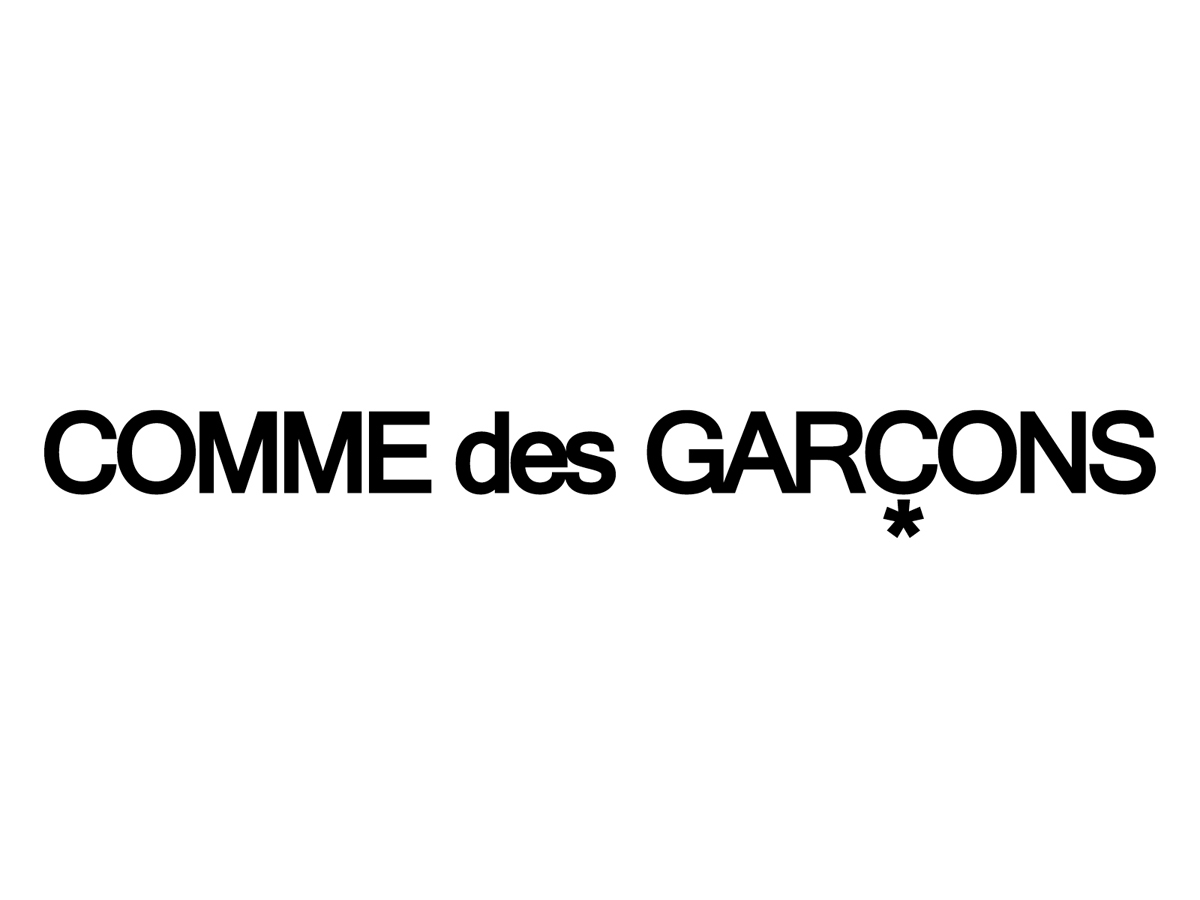 "I don't remember exactly. I know I wanted something long, something with a ring to it. One of the people working with me said, 'How about "Comme des Garçons?"' And I thought, 'Why not?'"
But why not use her own name for the brand?
She said, "I didn't think of myself as a designer. It was a business, a group of people working together. I wanted a name that would represent the whole group." Though this does not mean Kawakubo is a feminist (very important); Comme des Garçons is more to the attitude that Kawakubo does not compromise on conventionality, "I try to create clothes by breaking away from the clothes (or thinking) that already exist" ("Deconstruction and Elegance", interview by Akiko Fukai, Dresstudy, Vol. 24, [Fall 1993]).
According to Highsnobiety and as officially confirmed, the name indeed came from a 60's French song "Tous les garçons et les filles" (Translation: All the boys and girls).
.
As for the logo of Comme des Garçons, Kawakubo chose a simple contemporary font and used a star instead of a cedilla underneath the "c". Paola Antonelli, Design Curator of The Museum of Modern Art in New York, commented "It's fashion's first non-logo, it captures Comme's spirit of complicated simplicity."
---
3. Headquarters in Japan

.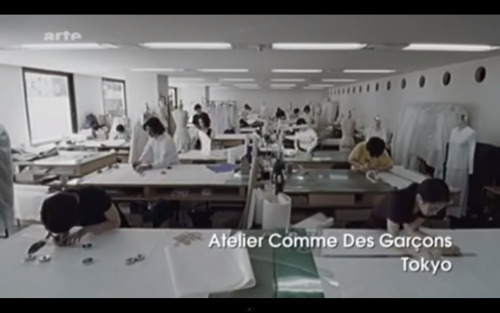 "The first thing you should know about the Comme des Garçons headquarters is that it occupies five floors of an ordinary office building on a busy road, each floor as drably functional as the next. Nothing to reveal here except its nothingness. There is no receptionist to greet you or to direct you to the appropriate floor. This would only be a problem if you were actually expected at Comme des Garçons, but very few people are welcomed there, and that also applies to family members. "No husbands, boyfriends, wives, daughters – never," said Adrian Joffe. "Which brings us to the second thing you should know about Comme des Garçons: it's a very secretive place." (Cathy Horyn, "Gang of Four", The New York Times, February 24, 2008)
---
4. She is a designer and a businessman.

.
As the operator of a SME in textiles raking in 14 billion yen annually, her creative focus must often be disrupted; or with the persistence of a creative, disregard the necessity of breaking even which impairs the decisiveness of an operator. Smart designers definitely would not overlook such a dilemma, yet she still continues to wear the hats of an operator and a designer and marches forward, there seems to be an underlying intention.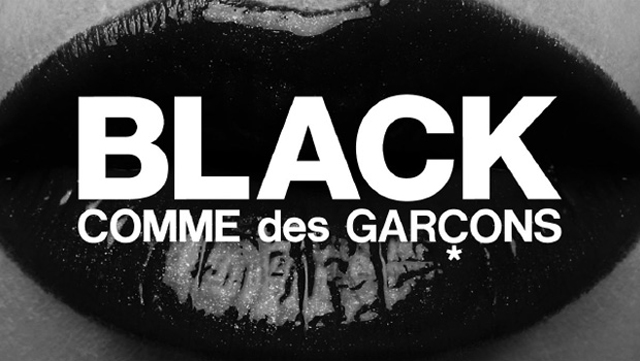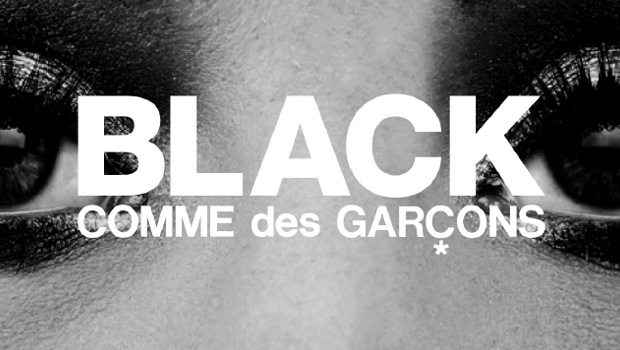 Kawakubo's every single decision has been carefully contemplated; the commercial success is attributed to the independence of the design arm.
BOF Founder Imran Amed comments on the business, "As the fashion industry was being turned upside down by the Great Recession of 2008, desperately slashing prices and cutting costs, Rei Kawakubo chose a different strategy altogether. She launched Comme des Garçons Black, a brand new recession-friendly collection that reprised the best selling styles from the brand's archive at honest price points. It was a characteristically business-savvy move by a designer who has deftly managed the fine line between creativity and commerciality. Local fans of the brand kept coming back to Comme des Garçons, even if times were tough and money was tight. Not all of Kawakubo's avant-garde peers have fared as well." Yohji Yamamoto was almost bankrupt, and Martin Margiela quietly left his eponymous label when its parent company, OTB, began the crass commercialisation of the brand.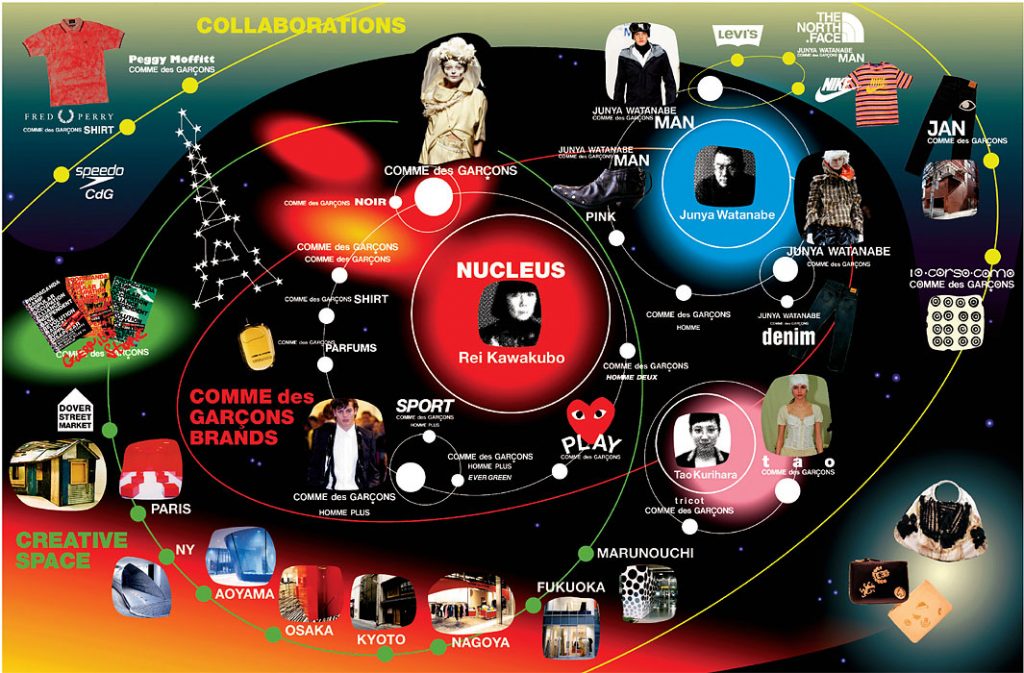 Kawakubo has been discreetly building a multi-brand fashion business – from the runway collection to Comme des Garçons Black to Play Comme des Garçons, as well as fragrance and leather goods, all under the Comme des Garçons banner, offering an array of selections for the vast majority of consumers.
Kawakubo once told Suzy Menkes, "It is true to say that I 'design' the company, not just clothes. Creation does not end with just the clothes. New interesting business ideas, revolutionary retail strategies, unexpected collaborations, nurturing of in-house talent, all are examples of Comme des Garçons' creation." She views commerce as a part of creation, because business is central to the creative process.
---
5. Advertising
.
"Through my collections, other product projects and through my graphic work, or by collaborating with artists and photographers, I like to tell a story," Kawakubo once said. "The final result of everything must say something. Information deepens the work."
Long-time design columnist Alice Rawsthorn once said this about Comme des Garçons' ads, "Comme des Garçons' Shirt campaigns are a beacon of inspired eccentricity. Since they began 11 years ago, the ads have featured everything from icebergs, graffiti, blues lyrics, 16th-century Flemish paintings, trucks, dogs… to – once but only once – a bunch of people actually wearing shirts." "Perhaps because the Shirt campaigns are conceived by a creative director who edits the contents from ready-made imagery… the only consistent thing about them is their inconsistency. Yet collectively they build a compelling portrait of the brand as well as of its creators and the people who will wear the clothes."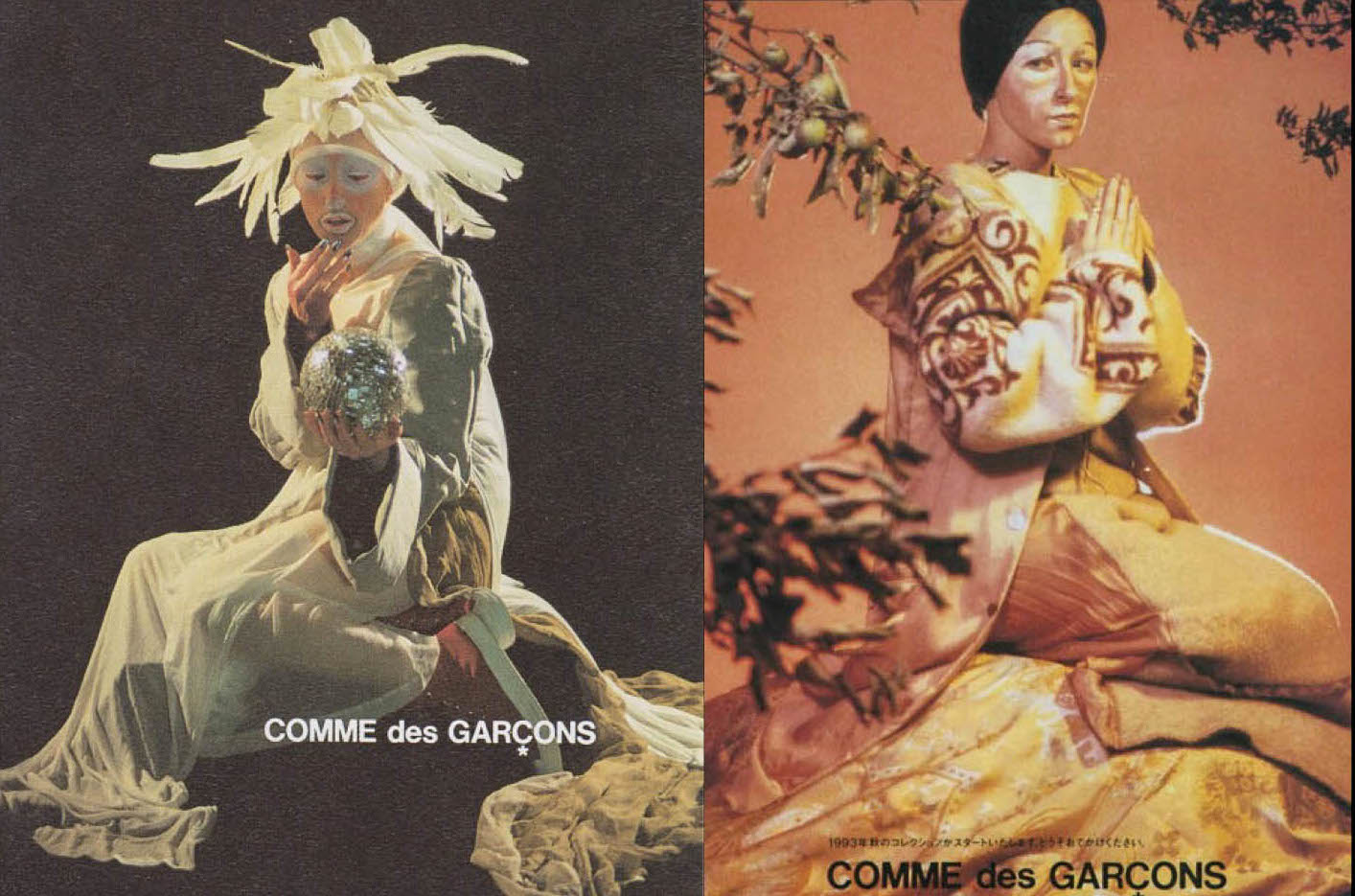 Kawakubo and Cindy Sherman's collaboration is noteworthy. After seeing Sherman's Harper's Bazaar layout in 1993, Kawakubo contacted Sherman to shoot the campaign for the Comme des Garçons autumn/winter 1994-95 collections and displayed the images in the company's SoHo boutique.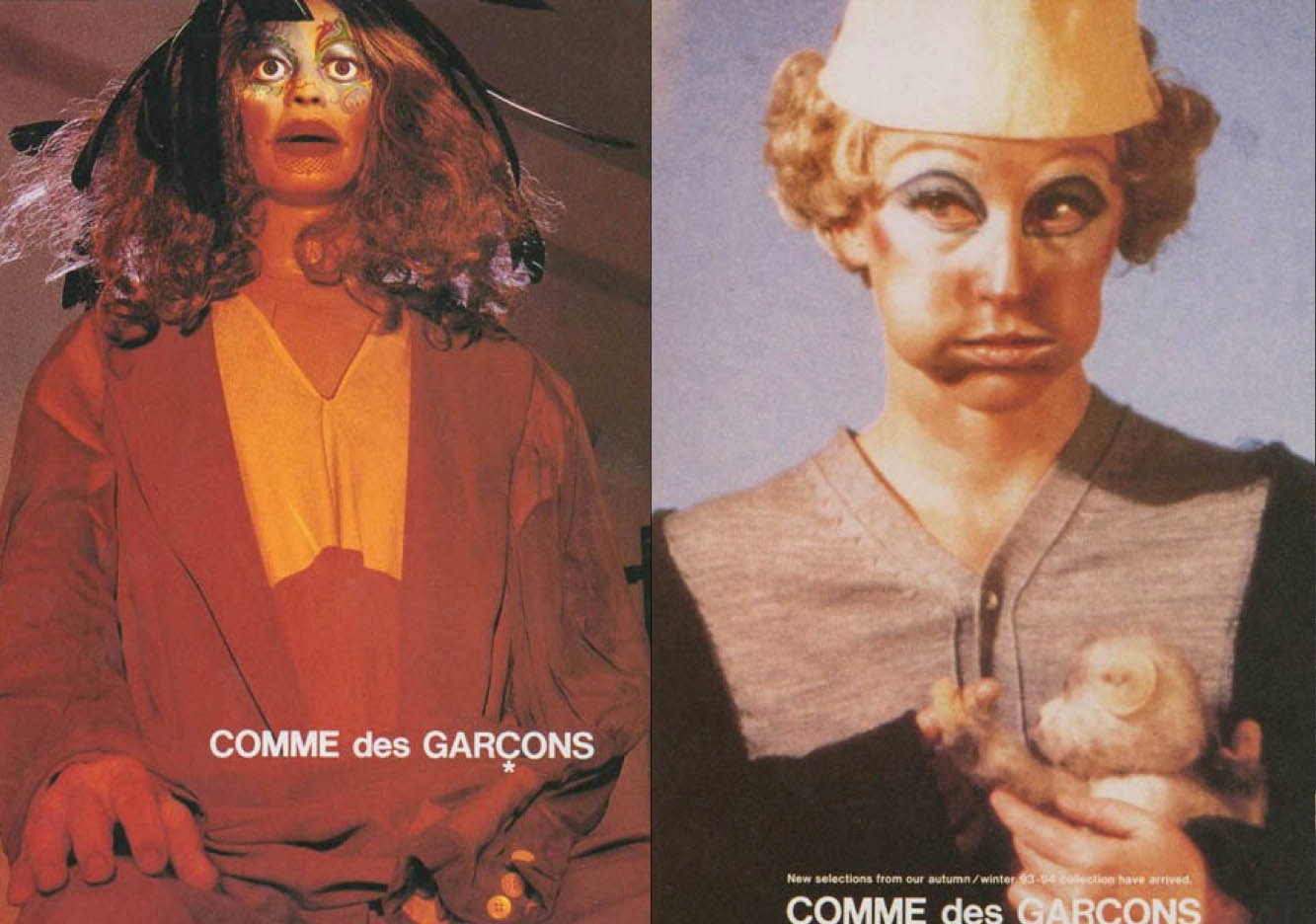 The photographs are challenges to the expectation of what a fashion photograph should be, breaking virtually every rule of fashion photography. Her photographs center on disjointed mannequins and bizarre characters, forcing the clothing itself into the background. The lithe, physically ideal fashion model, so integral to the pages of Vogue, Glamour, and Elle, is nowhere to be seen. In her place are a menagerie of confrontationally unpretty surrogates. Kawakubo rejects the conventional interpretive approach of photography and visual merchandising, and coincidentally created a deconstructionist show with Sherman.
---
6. Colour

.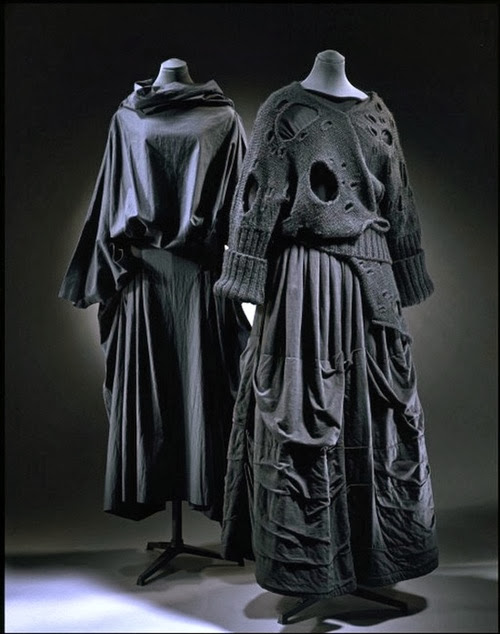 In Japan, Kawakubo's early followers, dressed in head-to-toe BLACK, were popularly known as "the crows". This is the general impression of Kawakubo (or Yohji Yamamoto).
Smithsonian commented in 2006, "Throughout the 1980s, Kawakubo's color palette was dominated by white, gray, and black, plus beige and navy. The theme of "darkness" was omnipresent in her creations. Along with Yohji Yamamoto, she made black fashionable…"
.
In March 1988, Kawakubo resolutely declared: RED is black. According to The Study of Comme des Garçons, "Red light projected onto the stage, a collection of white shirts, one-pieces, red jackets, socks made up the opening formation. She took advantage of people's presumption that the brand is always black, and used red to illustrate the meaning of black to her. Her choice of red is bright vermilion – the vibrancy of such brilliant red, paired with stiff fabric sewn into geometric jackets, presented a sharp intensity. Strong contrasting colour combinations of red and white, red and black further accentuated the self-declaration of a red martyr.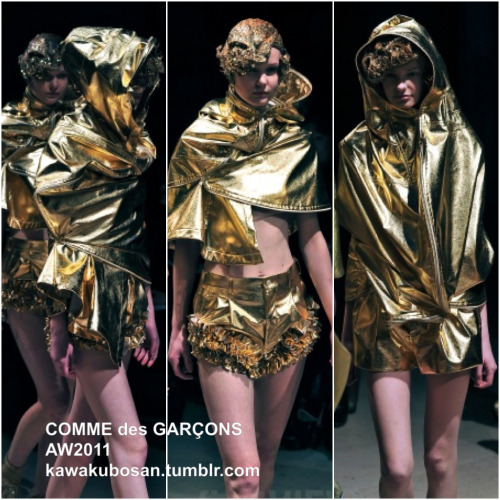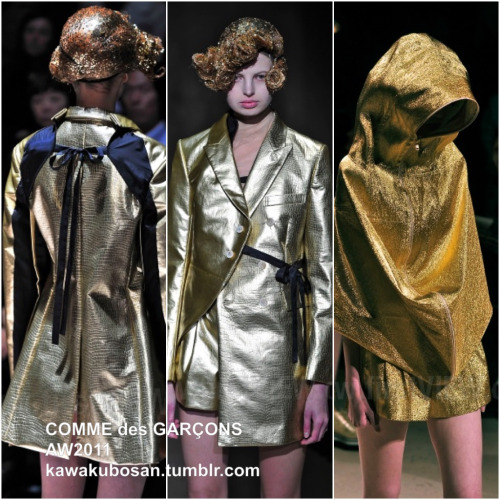 And then, Comme des Garçons autumn/winter 2011 show closed with all the models wearing gold, gliding along the stage like fireflies. "[Gold is] my third color after black and red," Kawakubo once explained."According to research, when babies are given a choice of colours, they often choose gold. I imagined this time for the store in Chelsea a magical and intimate world fo gold, my third colour after black and red. I want to make an even stronger, even more forward looking shop to fulfill the hopes of our core, fundamental Comme des Garçons customers, with my pure unadulterated concentrated eye."
Susannah Frankel, chief editor of AnOther magazine also remarked, "The colour Gold reminds her of Dubai." In addition, the brand released the PLAY Gold Heart Series.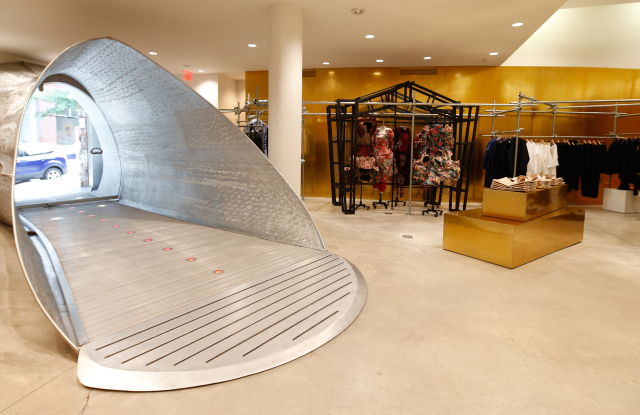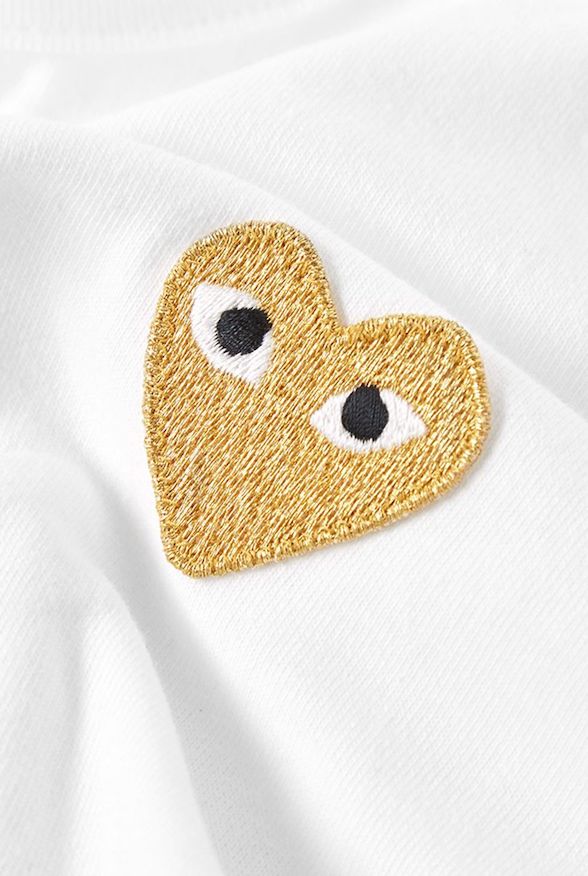 ---
7. Collaboration

.
For more than 40 years, the company has elaborated a myriad of surprising and unexpected collaborative threads – some of which unleashed from an understanding of market-trend value, but also somehow solely guided by Rei Kawakubo's own personal fascinations, Comme's collaborations are rarely executed at the behest of others (you never request, you are always invited – somehow mirroring the pyramidal structure of the company itself.)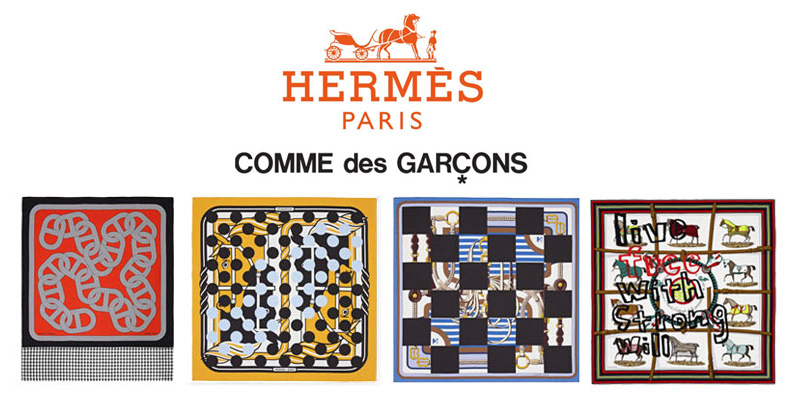 "At Comme des Garçons, everything is connected by creation: clothing design, graphic design, interior design, business strategy, marketing. All these have their own causes and effects, and to bring them all together as one force, one image, is interesting but very difficult." – Rei Kawakubo in Menkes, 2009.
.
In terms of reputation – there is photography (Cindy Sherman), dance (Merce Cunningham), fast fashion (H&M), luxury (Louis Vuitton), sports (NikeLab), streetwear (Supreme), etc… the list is endless, not to mention the added value they also give to guest crusaders.
This has shown the Comme global label's generosity to different fields and enhanced Rei Kawakubo's personal charisma as well. Illustrator Filip Pagowski created the PLAY CDG logo, and the highly celebrated, successful commercial line has gone on to collaborate with many more brands. Kawakubo once said, "For me there's no compromise, I do what I want, and they do whatever I couldn't do myself." Through Kawakubo's eyes, it starts and ends by being solely about mutual understanding and support, through which Comme des Garçons' global label extends, not only in economic power but also in new platforms of expression and diffusion to the label's invited participants.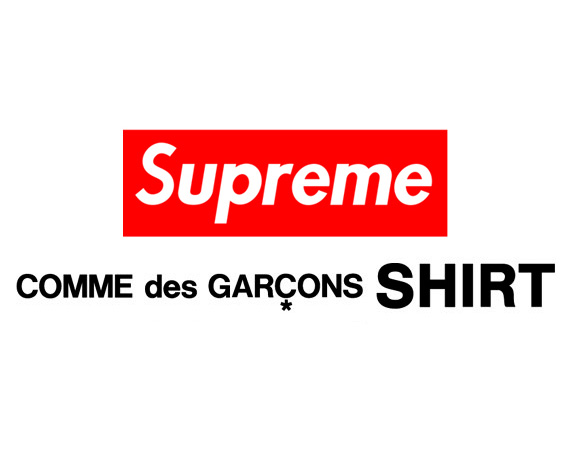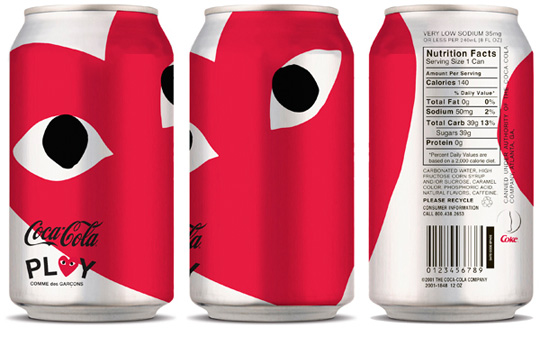 ---
8. Comme des Garçons Guerilla

.
The term "Guerrilla" reached legendary status in the fashion circle – the concept can be given credit for the future pop-up shops.
Scouting the world's most unexpected fashion destinations to find the ideal partners for the temporary stores the brand created between 2004 and 2008, they began collaborating with scientists, cooks, writers, and friends of the house.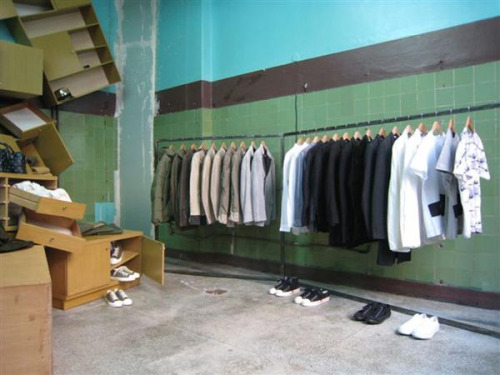 The first shop was in Berlin and named Comme des Garçons Guerrilla Stores plus the international area code corresponding to the geo-localization. "Joffe and I spent a day in Berlin at a Comme des Garçons' guerilla store, which then occupied the former bookshop of the Brecht Museum, on a seedy block in the eastern sector of the city. It is part of an experiment in alternative retailing which the company launched in 2004. Each of the stores (most in Nordic) is an ephemeral installation that opens without fanfare and closes after a year. Their decorating budgets are less than the price of some handbags at GUCCI and PRADA and original fixtures, including raw cinder blocks and peeling wallpaper, are left as they are found."
Around 20 Guerrilla Stores appeared and disappeared in Athens, Barcelona, Basel, Beirut, Los Angeles, Hong Kong, Singapore, Stockholm, among others. Adrian Joffe says "['Guerrilla'] refers to a small group of likeminded spirits at odds with the majority." The simple formula was a commercial success and quickly became a copied gimmick, such that Comme des Garçons terminated the Guerrilla project in 2008 and initiated the Comme des Garçons POCKET stores, offering the brand's easiest products to a crossover between a high-end boutique and a convenience store, in several cities worldwide along with a massive communication campaign.
(Side note: Interestingly, Adrian Joffe once said in an interview, "when we decided to open Dover Street Market, some people thought it was a guerilla shop and even asked me why we did not close it after a year! It took me many years to tell them it was not a guerilla shop; we spent too much money on this shop, we can't close it after a year.")
---
9. Dover Street Market

.
"I want to create a kind of market where various creators from various fields gather together and encounter each other in an ongoing atmosphere of beautiful chaos: the mixing up and coming together of different kindred souls who all share a strong personal vision."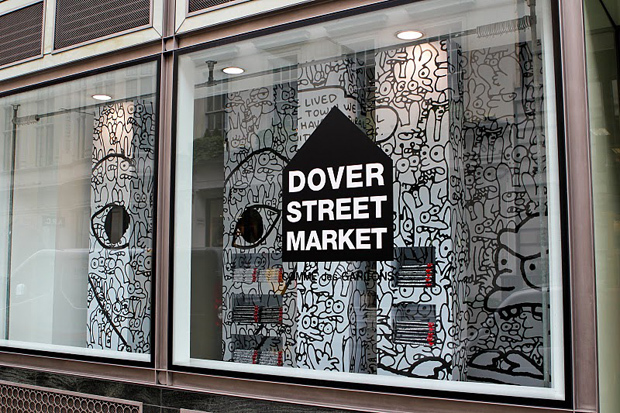 Dover Street Market London has been moved to no. 18-22 Haymarket, though its original location demonstrated Kawakubo's appeal as it had Acne Studios, APC and Victoria Beckham as neighbours. Being described as the ultimate mall, everything she thinks you should want is spread out over six floors. To some, Dover Street Market is not the perfect mall; it is actually the perfect museum that has sustained many newcomers' dreams and become a venue for designers' boundless imagination. "Interesting art installations can help brands with sales, this has already been widely practised within the industry," Adrian Joffe told Bazaar Men. "Creating special spaces to display the brand's new designs is a novel experience, whether to the brand or to the consumers. The experience itself signifies getting recognised. To Gucci right now, this suits perfectly and also matches the brand's current disposition." (It was reported that James Jebbia, founder of Supreme was upset because Supreme and Prada were on the same floor in DSM New York, he even threatened to withdraw, though in the end patched up with Adrian Joffe because when everyone shopped at Prada they also came by Supreme.)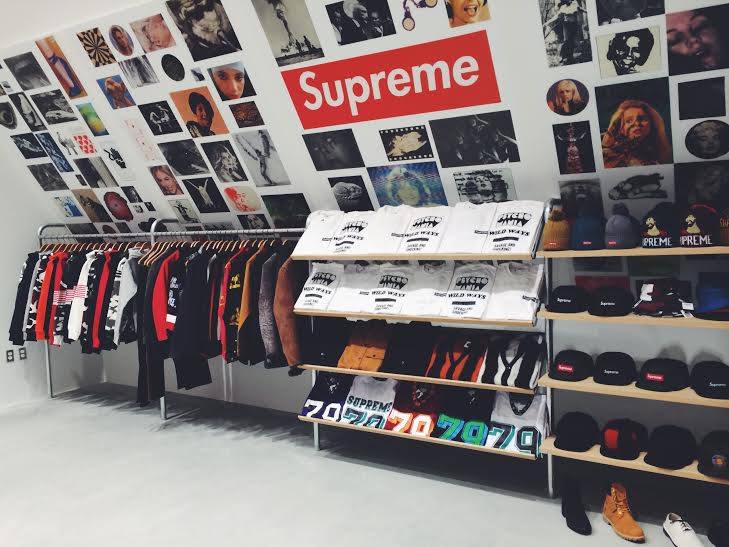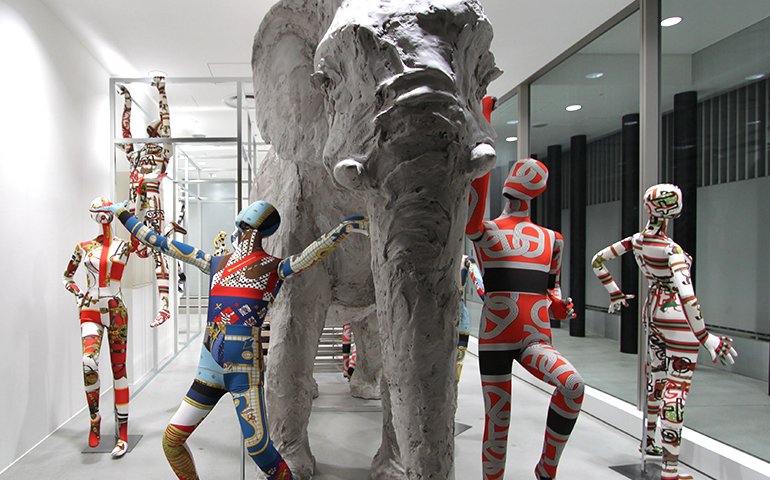 2004: Dover Street Market opened in Dover Street, Mayfair
2011: CdG and I.T Hong Kong partnered to open a new DSM in Sanlitun, Beijing (though it is called I.T Beijing Market, because no one would understand what Dover Street Market is.)
2012: Opened a branch in Ginza, Tokyo (It is its 5th anniversary this year, many designers are invited to collaborate with the brand on anniversary tees.)
2013: Opened a brand in Lexington Avenue, New York
2016: Dover Street Market London was moved to Haymarket. It was announced that Dover Street Market Singapore would open in June 2017.
2017: According to WWD, the sixth Dover Street Market opens in Los Angeles. Adrian Joffe said, "It just felt like the right time and the right place. This is not part of a five-year plan. You know us… It's going to be designed by Rei, and it's going to look different."
About the future – "Maybe we will open one in Hong Kong. Surely we will not have the scale of 20 stores, 6-7 is the most ideal number."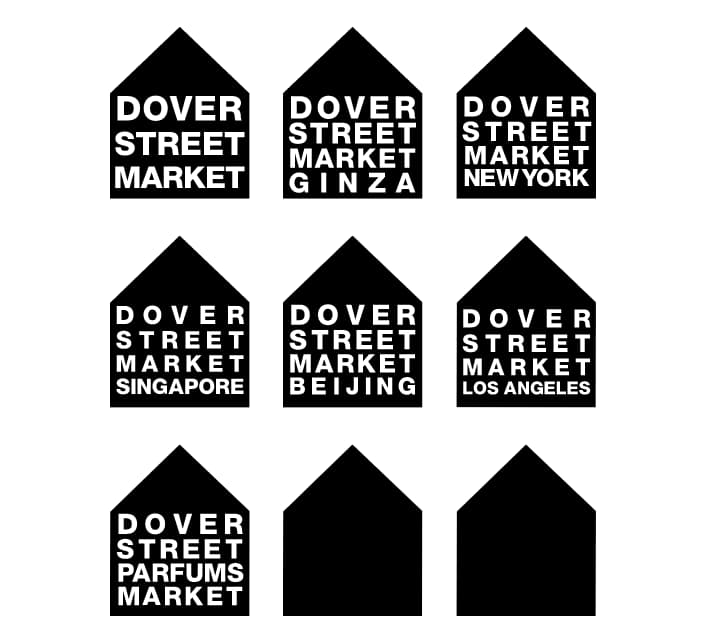 ---
10. Adrian Joffe

.
"Commerce is not a dirty word – I love commerce. We can have USD500,000 of sales in one day." — Adrian Joffe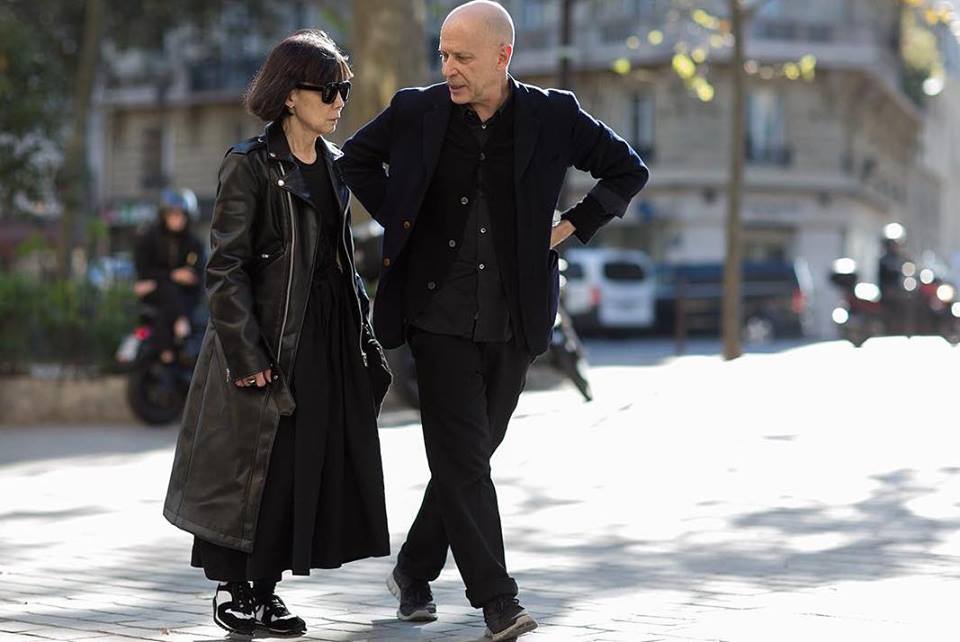 He is Comme des Garçons' CEO. Having joined CdG in 1987, almost all collaborations came from him, while Rei Kawakubo focused on the design aspect. According to the interview by Bazaar Men China, 4th July is their wedding anniversary. The pair got married in 1992. On the day of their 24th anniversary, Adrian Joffe sent a "Happy 24th anniversary" eㄎmail to Kawakubo, she only replied "Thank you for the reminder." "Her reply was surprising, but within my expectation."
What does Adrian Joffe work on?
Here is an example about Russian wunderkind Gosha Rubchinskiy – quoting Jiemian News' interview with him in which he said, "At first Kawakubo did not understand why I have to work with Gosha, why do I have to help him manufacture garments in Russia, she does not think Gosha's work is very creative, after all we have different perspectives. Thus I had to convince her that supporting a designer brand like this is beneficial to Dover Street Market, we should look at this from the overall framework of the fashion industry. I personally met Gosha in Moscow to learn about his background, etc. Kawakubo does not have a lot of patience, if she cannot understand what you are saying within 5 minutes, she will not hear anymore of it. It took her 3 years to realize my decision to work with Gosha is right."
Therefore estimating the timing – Adrian Joffe and Gosha met after the release of the new photography collection in around 2012, Kawakubo appeared in Gosha Rubchinskiy's autumn/winter 2016 collection in January 2016, and in March 2016 Business of Fashion revealed that Gosha officially became a label under CdG's empire (until he closed his brand.).
With regard to this intention, "I initially noticed his photography work, because I am quite interested in the history of the post-Soviet era. I got to know him in a party in Moscow. He was hanging around a group of skaters, I asked him what he did for a living, he said he skated, made some tees. I said 'We have a shop in London, perhaps we can sell your tees there.' We had a great chat that time, he showed me the tees he made and the photos he took, I loved them. And then the factory of his tees closed down, we took it upon ourselves to become his manufacturer, thereafter he said he wanted to organise a fashion show. I realised he is great at storytelling and telling stories through his creations."